Brokering Tareas by Steven Alvarez
Author:Steven Alvarez , Date: October 26, 2021 ,Views: 173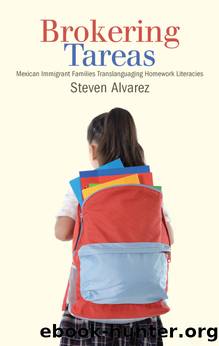 Author:Steven Alvarez
Language: eng
Format: epub
Publisher: State University of New York Press
Published: 2017-10-15T00:00:00+00:00



FIGURE 3.3 Second writing web constructed by Felix and Reina Molina with the assistance of Liana Abarca.
Felix broke up the web into the following structure: "He died before I was born—I always wanted to know him—I want to see how we are alike—if he looks like me—I was named after him"; "I want to know my family in Mexico—I want to know the history of my family—I want to know where my family are from"; "Mexico—see his house—favorite games—meet his friends." Liana helped Felix put some of his ideas into words; in particular, she led him by asking questions and telling Felix to think from the perspective of his own great-grandfather as a boy.
When they finished with the essays, an energized Felix thanked Liana for her help, and said he was going to show his father Ernesto the essay he wrote about Ernesto's grandfather because, according to Felix, "It will make him happy because my dad loves my bisabuelo." Reina was also pleased with Felix's response to the assignment. With this activity, both Reina and Liana agreed that Felix appeared motivated and curious. Liana credited this to the subject matter of family genealogy and stories.
This translanguaging event demonstrated how Felix bridged interaction between Reina, Liana, and his homework. The homework assignment required language brokers, and Felix took the lead in engaging his audience, translanguaging the assignment's English content for Reina. Reina's previous experiences with writing essays for her GED had prepared her with knowledge of similar genre forms. Felix brokered the assignment's content, thus presenting Reina the opportunity to teach her son about his family history. Reina's involvement became central to Felix's assignment about his great-grandfather. Liana, the experienced homework mentor, encouraged brainstorming and conversation about the subject matter, as well as Felix's translanguaging, as she seemed to intuit that it would be necessary for navigating future monolingual assignments as an emergent bilingual.
As Liana modeled the form of structured freewriting, Felix and Reina both learned by example and practice. Felix also benefitted from collaboration with his mother during the homework session. What he learned about his family history was a "fund of knowledge" (Gibson, Gándara, & Peterson Koyama, 2004; González, Moll, & Amanti, 2005; Sadowski, 2013) that Reina taught him, a lesson expressed with expertise. As they completed the assignment first in web and then in essay form, the trio continued to compose the project, interspersed with some small talk in English and Spanish.
Download


Copyright Disclaimer:
This site does not store any files on its server. We only index and link to content provided by other sites. Please contact the content providers to delete copyright contents if any and email us, we'll remove relevant links or contents immediately.