Wild Words from Wild Women by Stephens Autumn
Author:Stephens, Autumn , Date: September 22, 2017 ,Views: 2412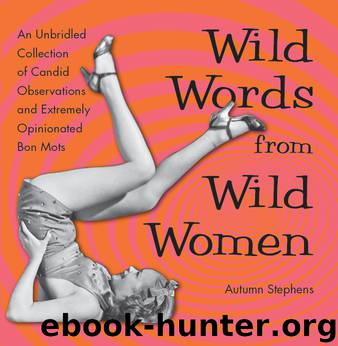 Author:Stephens, Autumn
Language: eng
Format: epub
ISBN: 9781609259792
Publisher: Red Wheel Weiser



Prolix Professionals
What I wanted to be when I grew up was—in charge.
—Wilma Vaught, brigadier general of the US Air Force.
Give me my sword.
—Oveta Hobby, first director of the Women's Army Corps, and a colonel nobody wanted to cross.
The only jobs for which no man is qualified are human incubators and wet nurse. Likewise, the only job for which no woman is or can be qualified is sperm donor.
—Wilma Scott Heide, RN, enumerating the three textbook cases in which anatomy is indeed destiny.
I could have succeeded much easier in my career had I been a man.
—Financier Henrietta Green. Her anatomy notwithstanding, "The Witch of Wall Street" managed to invest her inheritance so shrewdly that she was acknowledged, at the turn of the century, as the wealthiest woman in the world.
Being a performer was always my destiny. When I was born, the doctors didn't have to pop me to get me going. It was like, "Thank you, thank you. I am here!" I was ready to party.
—Comedic actress Whoopi Goldberg. She had joie de vivre from Day One.
Broadway has been very good to me—but then I've been very good to Broadway.
—Ethel Merman. During 1,147 performances of Annie Get Your Gun, the sharp-shooting showgirl managed to make her mark.
I'm not surprised at what I've done.
—Margaret Knight, nineteenth-century inventor who patented more than two dozen types of heavy machinery.
My family wasn't the Brady Bunch. They were the Broody Bunch.
My father was a proctologist, my mother an abstract artist. That's how I see the world.
—Sandra Bernhard, a magnificently maladjusted entertainer.
One day I found myself saying to myself, "I can't live where I want to. I can't even say what I want to!" I decided I was a very stupid fool not to at least paint as I wanted to.
I don't much enjoy looking at paintings in general. I know too much about them. I take them apart.
—Georgia O'Keeffe, doyenne of the painted desert. Convent-educated O'Keeffe also didn't enjoy hearing about the sexual symbolism of her work, insisting that any putative crotch imagery was nothing but a crock.
A photograph is a secret about a secret. The more it tells you the less you know.
I really believe there are things nobody would see if I didn't photograph them.
My favorite thing is to go where I've never been.
—Photographer Diane Arbus, whose penchant for peculiar-looking posers led her down some rather unusual paths.
You come to doing what you do by not being able to do something.
—Grace Paley, failed poet, acclaimed short story writer.
I was thirty-seven, too old for a paper route, too young for social security, and too tired for an affair.
—Erma Bombeck, on her transformation from housewife to humorist.
I never thought I would fall on my face
—California-cuisine queen Alice Waters. And the soufflé also rises.
Dear, never forget one little point: It's my business. You just work here.
—Elizabeth Arden. The queen bee of her own cosmetics empire, arrogant Arden refused to issue stock to her business manager/spouse.
To love what you do and feel that it matters—how could anything be more fun?
—Katharine Graham, extremely entertained publisher of the Washington Post.
Download


Copyright Disclaimer:
This site does not store any files on its server. We only index and link to content provided by other sites. Please contact the content providers to delete copyright contents if any and email us, we'll remove relevant links or contents immediately.