Wedding Etiquette Hell by Jeanne Hamilton
Author:Jeanne Hamilton , Date: January 23, 2018 ,Views: 663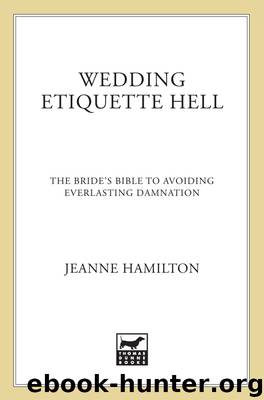 Author:Jeanne Hamilton
Language: eng
Format: epub
Publisher: St. Martin's Press



Rule 2: Don't Deprive Thy Guests of a Place to Park the Caboose
The ceremony took place at a golf course, a very beautiful location but with only enough chairs for about twenty of her seventy guests to sit in, so the rest of us stood through the ceremony, which was long. Plus not only could we not see the ceremony through all the people standing in front of us, we could not hear the ceremony, either, due to the loud country music blaring in the backyard of a nearby house.
After the ceremony everyone went through the receiving line, offered their congratulations, and then the wedding party went off to have their pictures taken. The pictures were taken at the golf course. At first it was pleasant to watch. Because the reception was to take place at the same location, watching the pictures being taken was about all you could do. Unfortunately, though, standing in the hot sun for two hours didn't remain pleasant. Now I get that the pictures are important and I don't begrudge them the two hours they took, however once again they should have looked into the importance of seating. The reception dinner that was taking place inside was not open to the guests until halfway through the picture-taking process so the only place to sit was at a few patio tables; needless to say not enough for everyone to sit.
Yes, I know that little chapel in the woods is positively rustically adorable and perfectly fits your romantic vision of the sublime wedding-ceremony location. But what will it be like for your guests to sit there in ninety-eight-degree heat because there is no air-conditioning, or worse, have to stand for more than a hour during the ceremony? Guests shouldn't be viewed as your personal fan club willing to endure hours of metatarsal torture just to get a glimpse of your royal loveliness floating down the aisle and then view an assortment of wedding-party backsides during the ceremony. At least let them sit in relative comfort if they have to endure that visual treat.
Immutable Fact of Life
Be chintzy with the seating and your guests will be chintzy in their estimations of your hospitality talents. Very chintzy.
Download


Copyright Disclaimer:
This site does not store any files on its server. We only index and link to content provided by other sites. Please contact the content providers to delete copyright contents if any and email us, we'll remove relevant links or contents immediately.