Varnog (Xian Warriors Book 6) by Regine Abel
Author:Regine Abel [Abel, Regine] , Date: November 28, 2022 ,Views: 13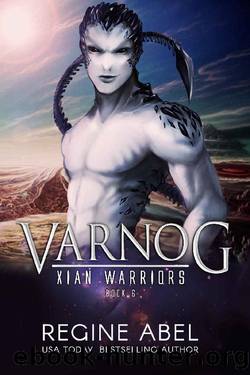 Author:Regine Abel [Abel, Regine]
Language: eng
Format: epub
ISBN: 9781989761205
Publisher: ISBN Canada
Published: 2020-05-18T18:30:00+00:00



Chapter 11
Linette
Morning came too soon, and yet I was restless with anticipation and a surge of adrenaline as I mentally prepared for the mission awaiting us. Varnog, however, had me slightly worried. Something was off with him since last night. I strongly suspected his talk with Lekla to be the culprit. Although he told me the good news about us being able to be intimate without the use of protection, I believed there was far more that he had chosen to keep secret. It troubled me that for whatever reason he couldn't be fully open and transparent with me.
Then again, maybe it truly had nothing to do with that conversation but everything to do with this mission. My man hated the thought of me being in the thick of things. While I enjoyed taking part in the fight—which didn't happen often enough for me as pilot—in this instance I, too, would have preferred to be safely away. It would be my first time without the full support of my unit. The near desperation in Varnog's lovemaking last night and this morning again further reinforced the idea that worry over this mission fueled his odd mood.
We quickly got dressed, and shared breakfast with the Mimics. I didn't ask questions as to what sort of porridge they had served to us. It was tasty and didn't look repulsive. Worst case scenario, we could use the replicator in our shuttle. With departure still an hour away, Shuria took us back to the training room, where we had already spent a couple of hours last night, for us to practice some more walking with the holographic disguise we would be wearing.
My mate had taken to it easily. However, we both had a similar challenge—although mine was significantly greater. As we would all three pose as Soldiers, my diminutive height was a problem. We had to shift the projection of the hologram to make me look at least two heads taller.
This meant I would not be allowed to interact manually with anything as the position of my real hand would be offset with the holographic projection. The second issue was the fact that I usually made three steps for every two taller people made. With the holographic projection, my normal gait made it look as if the Soldier was trying to walk with his undies dangling at his ankles—if Kryptids had actually worn clothes. I therefore needed to lengthen my stride while making it look fluid and natural.
On the other end, Varnog's walk was a little too elegant. The way he prowled almost made him look as if he was gliding whereas Soldiers walked in a bouncier fashion due to their three-segment legs.
I had initially feared that this would force us to delay the mission, but between the two training sessions, my mate and I had achieved a very respectable walk.
At long last, we embarked on the small Kryptid chaser that would take us to the Queen's Palace district. Some of the rebels would soon begin their shift in their respective discipline, according to their routine schedules.
Download


Copyright Disclaimer:
This site does not store any files on its server. We only index and link to content provided by other sites. Please contact the content providers to delete copyright contents if any and email us, we'll remove relevant links or contents immediately.