Top Secret Recipes--Sodas, Smoothies, Spirits, & Shakes: Creating Cool Kitchen Clones of America's Favorite Brand-Name Drinks by Todd Wilbur
Author:Todd Wilbur [Wilbur, Todd] , Date: March 25, 2014 ,Views: 273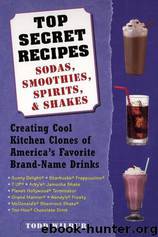 Author:Todd Wilbur [Wilbur, Todd]
Language: eng
Format: epub, mobi
Tags: Non-Fiction, Reference
ISBN: 9780452283183
Google: wG_ne3MMDq0C
Amazon: 0452283183
Goodreads: 487800
Publisher: Plume
Published: 2002-01-29T05:00:00+00:00



¾ cup nonfat dry milk
3 tablespoons Nesquik chocolate
drink mix
1½ cups cold water
1 tablespoon sugar
1½ teaspoons strawberry extract
Combine all ingredients for flavor of your choice in a container or jar with a lid. Shake until dry milk is dissolved. Drink immediately or chill in refrigerator.
• MAKES 1 14-OUNCE DRINK.
SPIRITS : SCHNAPPS & LIQUEURS
Liqueur-making dates back to somewhere around 900 A.D., when Arabs and European monks had to do something to break up the boredom of living in 900 A.D. Think about it: no DVDs, no video games, no extreme sports on ESPN2. These guys had nothing better to do than spend their time crafting the perfect beverage on which to get wasted. I respectfully toast their devotion.
Luckily for us, creating liqueurs at home today is a much simpler task than in those days thanks to the availability of a variety of extracts and flavorings, and pre-distilled spirits. This leaves us plenty of time in one day to both make liqueur and watch a DVD.
These clone recipes are very easy. For most of them it's a simple matter of creating a simple syrup, then adding 80-proof vodka and the correct flavoring. Vodka works well because of its neutral flavor. You can use any inexpensive vodka you like, but I recommend Smirnoff. That's the brand I used to make these clones, since it tastes good without being too expensive. For the flavorings and extracts, try to use Schilling or McCormick brand.
Each of the recipes has been designed to create a finished product with the same approximate alcohol content as the original.
For the liqueurs with fruit additives or cocoa you will want to strain the liqueur to remove the sediment. For this, use a wire strainer that has been lined with a coffee filter or two, or a paper towel. Moisten the filters with a bit of water first, then, after the liqueur has aged a while, pour it in and let it drip through the filter. If the liqueur has settled for several days the sediment will be on the bottom of your bottle or jar, so if you pour carefully most of the solid material will stay behind. It may take several hours for all of the liqueur to drip through the filter.
Store your finished product in a tightly sealed bottle in a cool, dry place. Except for the Irish cream clone, your finished product will store indefinitely, and even improve with age.
Then go watch that DVD.
Download


Copyright Disclaimer:
This site does not store any files on its server. We only index and link to content provided by other sites. Please contact the content providers to delete copyright contents if any and email us, we'll remove relevant links or contents immediately.