Coffee for One by KJ Fallon
Author:KJ Fallon [Fallon, KJ] , Date: March 5, 2018 ,Views: 1660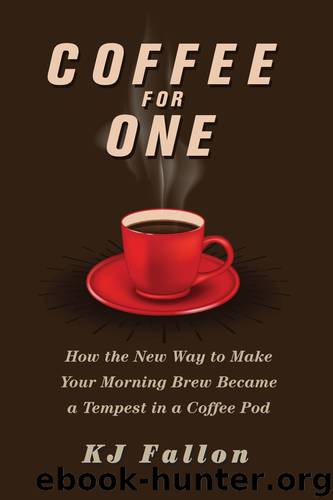 Author:KJ Fallon [Fallon, KJ]
Language: eng
Format: epub
ISBN: 9781510725553
Publisher: Skyhorse Publishing
Published: 2018-02-15T05:00:00+00:00



VertuoLine system [is] the first Nespresso machine that brews both American style large-cup coffee and authentic espresso. Launched exclusively in the US and Canada, VertuoLine directly appeals to large-cup coffee preference in North America. In the same way that it pioneered the premium portioned coffee segment in Europe more than 25 years ago, Nespresso aims to revolutionize the large-cup coffee segment in North America.18
Nespresso has figured out how to charm the serious single-serve coffee lover. In 2006, George Clooney became the spokesperson for Nespresso and appeared in ads for the high-end espresso machine. Some of those ads also featured Danny DeVito and John Malkovich. However, the ads didn't appear in the United States until 2015.
The single-serve market is getting somewhat crowded and each brand wants to capture coffee drinkers who crave the single-serve option. In the United States, Keurig has about an 85 percent share of the single-serve capsule market and Nespresso, with the launch of its VertuoLine, is hoping to garner more than the 4 percent share of the US coffee capsule market it had as of 2013.19 It is a safe bet that since JAB's takeover of Keurig, that brand will be looking at increasing its market share in Europe. JAB already has the biggest piece of the coffee capsule market on the planet, and that is where the growth and the money are.20 Senseo, the single-serve brewer that uses coffee pods that contain no plastic, using little coffee-filled pillows, has been and is more popular in Europe than it is stateside, with a 10 percent global share of the single-serve market, just behind Nespresso with an 11 percent global market share, as of 2013.21, 22
Nestlé released its Nescafe Dolce Gusto in 2006 in Europe, which is a more modestly priced alternative to its Nespresso. While some see this as Nestlé challenging itself,23 it seems like a smart way to hedge its bets in the single-serve marketplace. While Nestlé's Nespresso's European market share has fallen from 2010 to 2015, Nestlé's Dolce Gusto has risen in that time period.
Tassimo joined the caffeine fray in 2004 in France. Like other single-serve coffee companies, Tassimo was involved in multiple changing coffee-partner scenarios over the years. Ethical Coffee Company came into being in 2008 under the guidance of Nestlé's Nespresso's former boss, Jean Paul Gaillard. Ethical, as its name might imply, uses biodegradable pods.
With single-serve coffee, there is no "Can't we all just get along?" Keeping up with who owns what can be very confusing and requires lots of . . . coffee. Which leads to disagreements.
Download


Copyright Disclaimer:
This site does not store any files on its server. We only index and link to content provided by other sites. Please contact the content providers to delete copyright contents if any and email us, we'll remove relevant links or contents immediately.