The Starter Garden Handbook by Alice Mary Alvrez
Author:Alice Mary Alvrez [Alvrez, Alice Mary] , Date: June 23, 2018 ,Views: 1769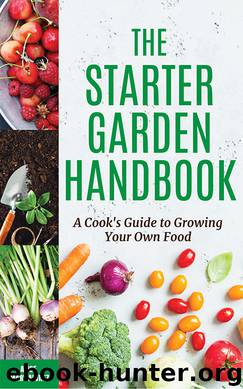 Author:Alice Mary Alvrez [Alvrez, Alice Mary]
Language: eng
Format: epub
ISBN: 9781633536616
Publisher: Mango Media
Published: 2018-02-25T13:16:13+00:00



Support Your Plants
One of the minor downsides of a wonderfully thriving garden is that the plants can really start to get big. And the bigger they get, the more support they are going to need.
Sprawling Vine Types: If you are growing things like cucumbers, beans, tomatoes or melons that are a vining variety, you have a bit more flexibility on what to do.
Vining plants can grow 7 or 8 feet high (or taller), so plan your trellis with some good height on it. Three poles tied at the top with wire make an easy tripod-style of trellis. Vines can either grow naturally up the poles, or you can use soft twine or wire to fasten your plants to the poles.
Compact Bush Types: Plants that are designed to grow in a bush form are usually better at holding themselves up, but are also more likely to get snapped branches if they are too heavily laden with fruit. Unlike vines, they're not quite as flexible and not really meant to be on the ground. For the most part, your bush plants will be fine on their own. Tomatoes tend to be the exception and often need support even when growing in bush form.
Bush plants won't grow as high as a vine, so a stake or cage that is 2 or 3 feet high is often enough. To support an entire row of plants, put up a length of upright chicken wire as long as the row. Secure with stakes, and your plants can be tied to that instead of getting their own individual supports. Bush plants won't naturally grab anything, leaving you to tie them up to stay put.
Don't Forget the Fruit: This is one small extra thing to consider. If you have plants that produce really large fruits, like melons, cucumbers or tomatoes, you might have to get them some extra special support. When the plant is upright on a trellis, large fruits can break their stems and fall even before they are ripe.
Download


Copyright Disclaimer:
This site does not store any files on its server. We only index and link to content provided by other sites. Please contact the content providers to delete copyright contents if any and email us, we'll remove relevant links or contents immediately.