Make It Easy by Stacie Billis
Author:Stacie Billis , Date: December 1, 2017 ,Views: 1355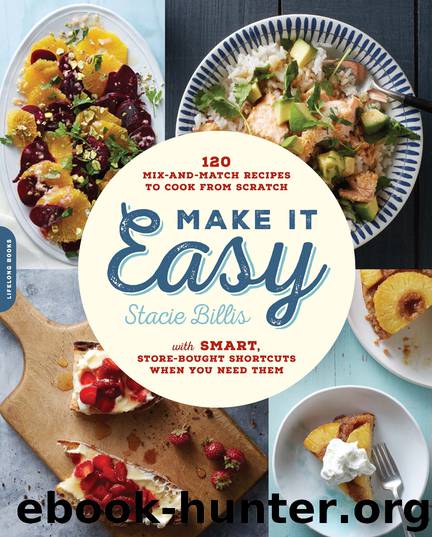 Author:Stacie Billis
Language: eng
Format: epub
ISBN: 9780738218878
Publisher: Da Capo Press
Published: 2016-03-23T04:00:00+00:00



SHAVED ASPARAGUS AND FENNEL SALAD
Serves 4
MIX-AND-MATCH WITH:
KEBABS, page 34
LENTIL SOUP WITH SAUSAGE, page 120
VEGETABLE CHICKPEA SOUP WITH GARLIC TOASTED BREAD CRUMBS, page 122
EVERYDAY VINAIGRETTE, page 124
NO-FUSS PAN-ROASTED PAPRIKA CHICKEN, page 146
CHICKEN CUTLETS WITH ARUGULA AND PARMESAN, page 151
CHICKEN CUTLETS WITH QUICK AVOCADO-TOMATO RELISH, page 154
EASY ITALIAN TURKEY MEATBALLS, page 156
STEAK WITH SWEET-AND-SOUR PEPPERS, page 159
BEEF AND LENTIL SLOPPY JOES, page 161
GREEK-STYLE KEBABS, page 162
PORK CHOPS WITH MAPLE BUTTERED APPLES, page 169
SESAME-CRUSTED SALMON, page 172
LEMONY OREGANO SHRIMP, page 174
PASTA WITH MEAT SAUCE, pages 28 and 184
PASTA WITH MUSHROOM AND LENTIL "BOLOGNESE" SAUCE, pages 28 and 185
BUTTERED PASTA WITH RICOTTA AND PEAS, page 186
PASTA WITH SPINACH PESTO AND GREEN BEANS, page 188
ZITI WITH ROASTED TOMATOES AND CORN, page 190
CLASSIC MARGHERITA PIZZA, page 192
This salad is spring perfection, though you can make it anytime you can find good asparagus and fennel in the market. It's easiest to make this with a mandoline (see page 17). In fact, unless you have killer knife skills, you might want to invest in one for this. Part of what makes this very simple combination of ingredients work so well is that the veggies are cut into deliciously paper-thin slices.
When I have my Everyday Vinaigrette ready to go, I'll use that, but this salad is best with an even simpler dressing that you can make on the spot (recipe follows). It's also great tossed with cubed fontina cheese. In the fall, when apples are abundant in my neck of the woods, I also add thinly shaved apple.
2 tablespoons olive oil
1 tablespoon white wine or Champagne vinegar
1 tablespoon freshly squeezed lemon juice (from about ½ juicy lemon)
Salt
1 bunch of fresh asparagus (about 12 stalks), washed but not trimmed
2 small to 1 medium-size bulb fresh fennel
½ medium-size to large red onion
1. Place the olive oil, vinegar, lemon juice, and salt in a jar with a lid. Seal and shake until dressing emulsifies and set aside.
2. Holding the back end of an asparagus spear, run a vegetable peeler from just above your fingers to the tip, moving away from your body. Keep doing this, rotating the spear as necessary, until the entire thing has been shaved into very thin slices. Repeat with remaining spears, placing the thinly shaved slices in a serving bowl.
3. Trim the bottom and outer leaves of the fennel. Cut the bulb in half through the root and use a mandoline to shave thinly, or place each half on a cutting board, cut side down, and use a knife to cut very thin slices. Add the thinly shaved fennel to the shaved asparagus.
4. Use a mandoline to shave the red onion very thinly, or place on a cutting board, cut side down, and use a knife to cut very thin slices. Add the thinly shaved onion to the other shaved vegetables.
5. Give the dressing a few shakes and pour over the vegetables. Sprinkle with salt to taste and toss well. Serve immediately.
Download


Copyright Disclaimer:
This site does not store any files on its server. We only index and link to content provided by other sites. Please contact the content providers to delete copyright contents if any and email us, we'll remove relevant links or contents immediately.