Katie Chin's Everyday Chinese Cookbook by Katie Chin
Author:Katie Chin , Date: May 27, 2016 ,Views: 1579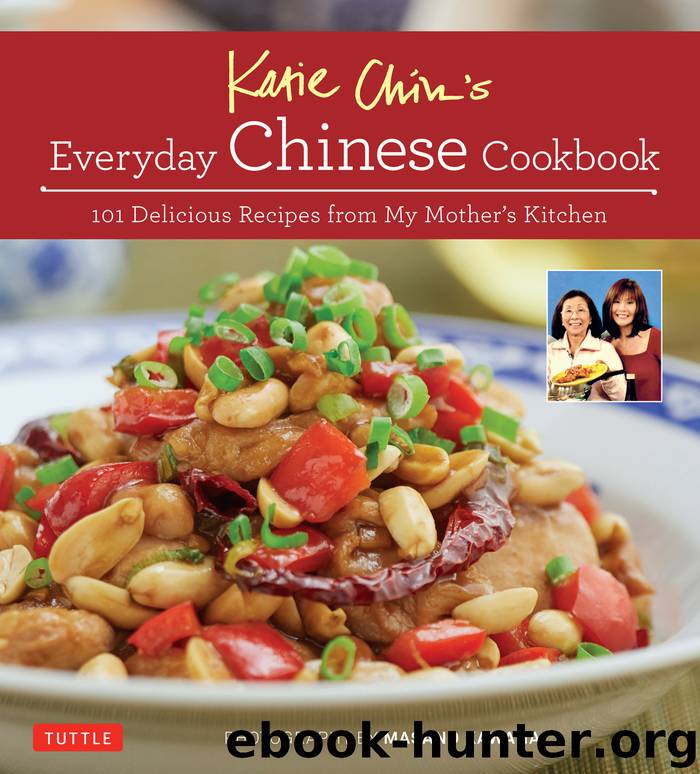 Author:Katie Chin
Language: eng
Format: epub
ISBN: 978-0-8048-4522-9
Publisher: Tuttle Publishing



Beef, Pork and Lamb
—————
My mother always made a special beef dish when any of my siblings came home from college. It was her way of saying "I love you" or "Good job on your straight As, Jeanie." (That was for my sister—when I came home with straight B's, she made squab.) Beef was a luxury in our home, and my mother had rarely eaten it when she was growing up in China because it was scarce. The beef dishes she made always melted in our mouths; she chose fine cuts and always cut across the grain. Once she opened her first restaurant, my mother went wild creating beef dishes, as there are so many delicious ways to prepare beef in Chinese cuisine. I've included some of my mother's legendary beef recipes, like the tender and succulent Stir-Fried Beef with Asparagus and Wild Mushrooms (page 94) and the spicy Sichuan Beef (page 90).
Pork, on the other hand, we ate all the time: it's a healthy lean protein and its rich taste goes really well with Chinese flavors. In fact, "pork" is literally synonymous with "meat" in Chinese, and it's ubiquitous in China, much more so than beef. It's always eaten on Chinese New Year because its richness symbolizes prosperity. Pork can be prepared in so many ways—steamed, braised, fried, roasted and baked—and it's incredibly versatile, from the crispy and tender Sweet-and-Sour Pork (page 86) to the classic Chinese comfort food, Mapo Tofu (page 97).
Finally, I just had to include one of my mom's favorite lamb dishes in this section. Her Mongolian Lamb (page 96) is warming and savory, and will satisfy any warrior-sized appetite.
Download


Copyright Disclaimer:
This site does not store any files on its server. We only index and link to content provided by other sites. Please contact the content providers to delete copyright contents if any and email us, we'll remove relevant links or contents immediately.