Betty Crocker's Good and Easy Cook Book by Betty Crocker
Author:Betty Crocker , Date: January 27, 2018 ,Views: 2083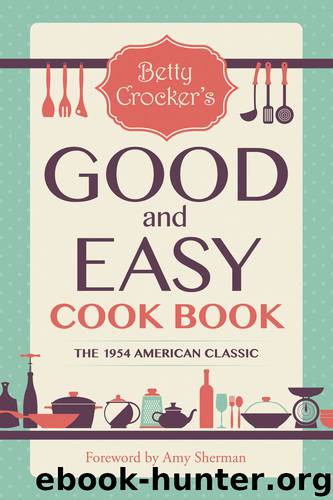 Author:Betty Crocker
Language: eng
Format: epub, azw3
ISBN: eBook ISBN: 9781510724167
Publisher: Skyhorse Publishing
Published: 2017-01-27T05:00:00+00:00



QUICK PICKLED BEETS
no. 2 can sliced beets
¼ cup vinegar
1 tsp. salt
¼ tsp. cinnamon
⅛ tsp. cloves
dash of pepper
Drain juice from beets; add remaining ingredients to juice and bring to boiling. Pour over beets and set in refrigerator to chill and season overnight.
CURRIED FRUIT BAKE
no. 1 can pear halves
6 maraschino cherries
no. 1 can cling peach or apricot halves
no. 2 can pineapple slices or chunks
⅓ cup butter, melted
¾ cup brown sugar (packed)
4 tsp. curry powder
Heat oven to 325° (slow mod.). Drain fruit and arrange in 13x9½x2" pan. Pour over a mixture of remaining ingredients. Bake 15 min. Baste with drippings in pan; bake 15 min. more. Serve hot as meat accompaniment.
SPICED PRUNES
½ lb. prunes (about 1 cup)
1 stick cinnamon
½ tsp. whole cloves
¼ cup brown sugar
2 tbsp. vinegar
Cover prunes with water; simmer 30 min. Add remaining ingredients; simmer 30 min. more, until tender. Serve hot as a garnish with meat. 6 servings.
QUICK FROZEN PRESERVES
16-oz. pkg. frozen fruit (strawberries, other berries, peaches)
2 tbsp. powdered pectin (such as Sure-Jell, Certo)
¾ cup sugar
Place frozen fruit in tightly covered saucepan; cook over high heat about 2 min., stirring occasionally to break up fruit. Stir in pectin; bring to a rapid boil and boil 1 min. Add sugar and bring to full rolling boil; boil 1 min. while stirring constantly. Pour mixture into jelly glasses and chill until it sets.
MINUTE CHUTNEY
½ cup canned mincemeat
¼ cup chopped pear or apple
1 tbsp. chopped green pepper
1 tbsp. vinegar
1 tsp. grated onion
dash of cayenne pepper
Combine all ingredients. ⅔ cup relish.
Download


Copyright Disclaimer:
This site does not store any files on its server. We only index and link to content provided by other sites. Please contact the content providers to delete copyright contents if any and email us, we'll remove relevant links or contents immediately.