The Unhoneymooners by Christina Lauren
Author:Christina Lauren [Lauren, Christina] , Date: May 15, 2019 ,Views: 3484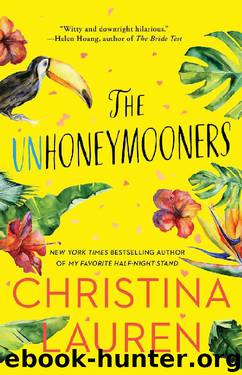 Author:Christina Lauren [Lauren, Christina]
Language: eng
Format: epub
ISBN: 9781501128035
Google: 3kaBDwAAQBAJ
Amazon: B07MGS7HF1
Goodreads: 42201431
Publisher: Gallery Books
Published: 2019-05-13T23:00:00+00:00



chapter eleven
I open the door to our suite as quietly as I can. Ethan wasn't awake yet when I finally gave up on waiting for him and went to get something to eat, but he is now. He's sitting on the couch in nothing but boxers. There's so much tan skin to take in—it sends my pulse skyrocketing. We'll have to talk about what happened last night—the kissing, and the fact that we slept together all night, curled in a matching set of parentheses—but it would probably be much easier if we could just skip the awkward talk and go straight to the making out again.
"Hey," I say quietly.
"Hey." His hair is a mess, his eyes are closed, and he's leaning back as if he's just focusing on breathing or planning to start a petition to ban all sales of $1.99 mai tais.
"How's the head?" I ask.
He answers with a gravelly groan.
"I brought you some fruit and an egg sandwich." I hold out a to-go carton of some mango and berries and a wrapped package with the sandwich, and he looks at both of them like they're filled with buffet seafood.
"You went downstairs to eat?" he asks. The follow-up Without me? is clearly implied.
His tone is dickish, but I forgive him. No one likes a pounding head.
Setting the food down on the table, I head into the kitchen to get him some coffee. "Yeah, I waited for you until about nine thirty, but my stomach was digesting itself."
"Did Sophie see you there alone?"
This feels like being jerked to a standstill. I turn to look at him over my shoulder. "Um, what?"
"I just don't want her to think that there's trouble in our marriage."
We spent all afternoon talking about how he's better off without Sophie, he kissed me last night, and this morning he's worried about what she thinks. Awesome. "You mean our fake marriage?" I say.
He rubs a hand across his forehead. "Yeah. Exactly." Dropping his hand, he looks up at me. "So?"
My jaw tightens, and I feel the storm build in my chest. This is good. Anger is good. I can do angry at Ethan. It's so much easier than feeling the tickling edges of smitten. "No, Ethan, your ex-girlfriend was not at breakfast. Neither was her fiancé, or any of the new friends you made in the lobby last night."
"The what?" he asks.
"Never mind." Obviously he doesn't remember. Excellent. We can pretend the rest didn't happen, either.
"Are you in a bad mood?" he asks, and a dry, sardonic laugh bursts out of me.
"Am I in a bad mood? Is that a serious question?"
"You seem upset or something."
"I seem—?" I take a deep breath, pulling myself to my full height. Do I seem upset? He kissed me last night, said sweet things implying that maybe he'd wanted to do that for a while, and then passed out. Now he's grilling me about who might have seen me getting food alone in the hotel. I don't think my reaction is overblown.
Download


Copyright Disclaimer:
This site does not store any files on its server. We only index and link to content provided by other sites. Please contact the content providers to delete copyright contents if any and email us, we'll remove relevant links or contents immediately.