Hardcore Twenty-Four by Janet Evanovich
Author:Janet Evanovich , Date: November 15, 2017 ,Views: 2652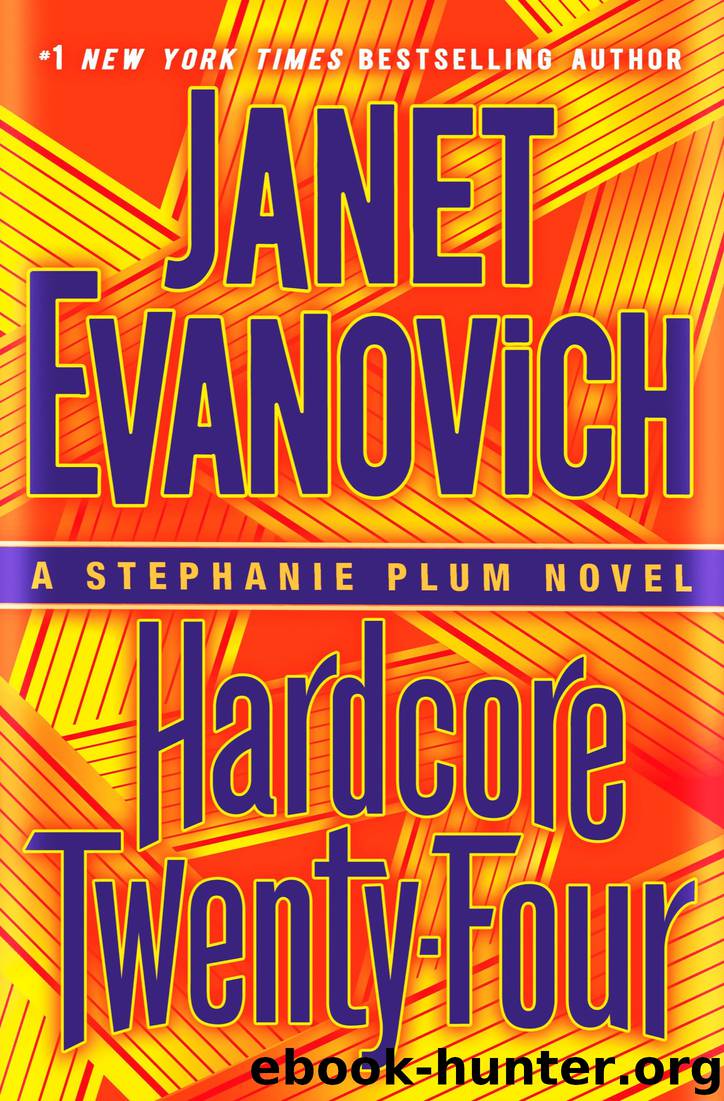 Author:Janet Evanovich
Language: eng
Format: epub, mobi
Publisher: Penguin Publishing Group
Published: 2017-11-14T05:00:00+00:00



• • •
Grandma met us at the door. Her hair was cut, styled, and colored to look exactly like my mom's. And Grandma was spray-tanned. Head to toe with the exception of white circles around her eyes.
"What do you think?" she asked.
"I think you rock," Lula said. "Us girls gotta mix it up once in a while."
"I'm taking it for a test-drive," Grandma said.
My mom was in the kitchen.
"I heard that," she said. "As long as you don't test-drive it to Florida."
I led the way and hung my bag on a kitchen chair. The small table was set for four, and the bread and butter were already out.
"Hey, Mrs. P.," Lula said. "It smells good in here."
"Kielbasa and sauerkraut," my mom said. "It's lunch, so everyone helps themselves from the pot on the stove."
We all filled our plates and sat at the table.
"Look at her," my mother said, cutting her eyes to Grandma. "She's going to Florida. I'm going to come back from mass someday and she'll be gone. And who knows about this man. He could be a serial killer, a white slaver. He could be one of those men who steals Social Security from old women."
"He has a good job working in a bar," Grandma said. "He's a family man. He can't help if he looks hot. And my Social Security isn't worth crap. I wouldn't be living here if I got any kind of money from Social Security."
"I want you to do a background check on him," my mom said to me. "I know you have all those programs that you use to track down criminals. I want you to find out about this person."
"That's reasonable," Lula said. "I always check up on the men I go out with. There's some freaks out there."
"I guess that's okay," Grandma said. "I'm sure he has nothing to hide."
I took down all the information on Roger Murf, and promised I'd get right to it. Truth is, I agreed with my mom and Lula. It was a good idea. Hard to have a lot of trust in a guy who looks like George Hamilton.
Lula and I laid waste to the kielbasa, insincerely offered to help with cleanup, and left.
"I'm somewhat of an expert on sausage," Lula said when we were in the car, "and that was about the best sausage ever. I wouldn't mind knowing how to cook a sausage like that, but probably I'd need a stove."
Lula had half a fridge, a Keurig, and a single-induction burner. At least she had an excuse for not cooking. I had zip.
I drove past all the real estate associated with Johnny Chucci and didn't see the silver Honda. I called Morelli and asked about Slick. He said they'd searched the entire cemetery and its surroundings and didn't find Slick or any of his body parts.
"I'm at a temporary dead end," I said to Lula. "I'm going to drop you at the office and head home to research Grandma's boyfriend. Do you want to stake out the gnome house with me tonight?"
"Wouldn't miss it.
Download


Copyright Disclaimer:
This site does not store any files on its server. We only index and link to content provided by other sites. Please contact the content providers to delete copyright contents if any and email us, we'll remove relevant links or contents immediately.