Scorched Eggs by Childs Laura
Author:Childs, Laura [Childs, Laura] , Date: December 15, 2014 ,Views: 10473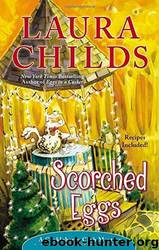 Author:Childs, Laura [Childs, Laura]
Language: eng
Format: mobi, epub
ISBN: 9780425255599
Publisher: Berkley Hardcover
Published: 2014-12-02T08:00:00+00:00



CHAPTER 14
ON Tuesday mornings Petra always made her cheesy omelet rolls, which usually brought an influx of customers to the Cackleberry Club. Her recipe started out the same as if she was whipping up a typical omelet—combining eggs, milk, flour, and seasonings in a blender. But instead of cooking it in a sauté pan, she poured her egg mixture into a cake pan and baked it for about twenty minutes. When the eggs were golden and bubbly, she pulled it from the oven, sprinkled on shredded cheddar cheese, and loosened the edges. Then she simply rolled up the omelet and cut it into pieces.
"How are we garnishing these omelet rolls?" Suzanne asked. She'd dealt out half a dozen white plates like playing cards and was watching Petra place an omelet roll in the center of each plate.
"Just drop on a dollop of sour cream and sprinkle on some of your homegrown chives," said Petra. "Oh, and don't forget, two slices of whole wheat toast with little pots of apple jelly."
"Got it," said Suzanne.
Petra turned back to her stove, where she quickly plopped eight slices of French toast onto her grill.
Suzanne carried the omelet rolls to the pass-through and caught Toni's eye. Toni nodded and hustled over. "We got more requests for sticky rolls and old man Wyckle says there isn't enough pepper on his eggs. You want me to get out my pepper spray and give him a shot?"
"No," said Suzanne, handing her a pepper mill. "I think just regular pepper will do the trick."
"Okeydoke," said Toni, grabbing two more orders and balancing them down the length of her arm.
Suzanne turned back to Petra, who'd just flipped her French toast over. It was looking golden and smelling heavenly. "We're getting more requests for sticky rolls," she told her.
"Of course we are," said Petra. Her baking skills were both terrific and prolific, and she reveled in the fact that her rolls and breads were requested as well as much enjoyed. Her donuts, cookies, and cakes were also in high demand when her beloved church held a bake sale or sponsored a church supper.
"Did you ever think of entering one of your pies in the county fair?" Suzanne asked.
"Thought about it," Petra replied.
She said it casually enough so that Suzanne knew she'd definitely been considering it.
"Yet you never do," said Suzanne. "Though you'd win hands down."
"Maybe."
"Oh, you would," said Suzanne. "Trust me."
"Is that tea group still coming in this afternoon?" Petra asked. "The one who requested a sunflower tea?"
"They're still coming as far as I know," said Suzanne. "Are you still planning to make sunflower seed muffins?"
"Yup," said Petra. "And I hope Toni remembered to bring in those bunches of sunflowers so we can fix up table bouquets."
"They're bobbing their shaggy heads in a big white bucket on the back steps even as we speak."
Petra glanced toward the back door, where a familiar cardboard box was sitting. "I see you brought your little owl back with you."
"He's commuting," said Suzanne. "Wherever I go, he goes.
Download


Copyright Disclaimer:
This site does not store any files on its server. We only index and link to content provided by other sites. Please contact the content providers to delete copyright contents if any and email us, we'll remove relevant links or contents immediately.