The Road to Jonestown by Jeff Guinn
Author:Jeff Guinn , Date: June 21, 2017 ,Views: 1610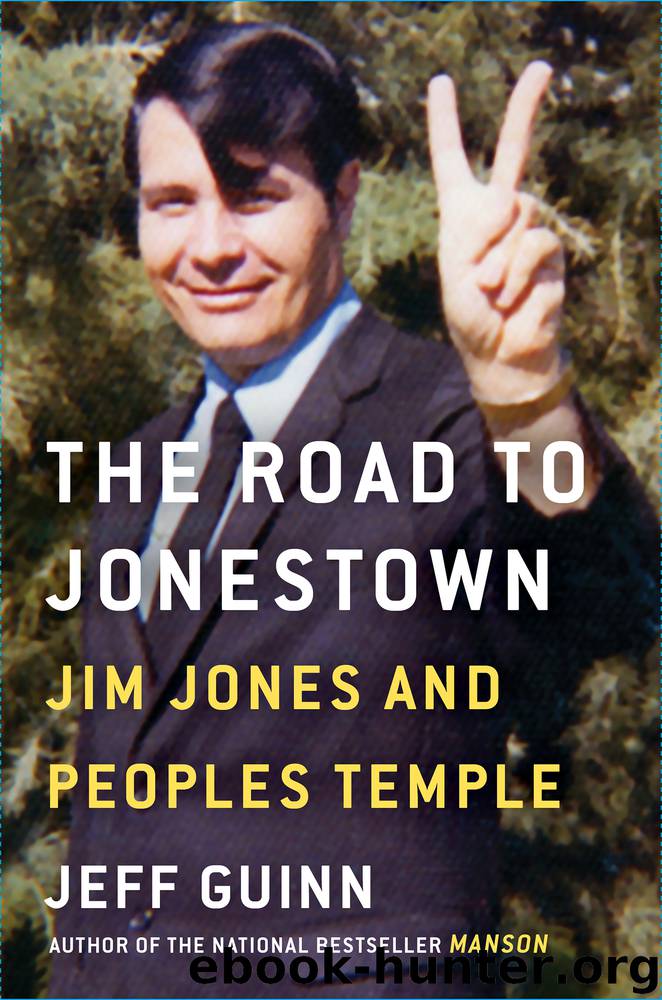 Author:Jeff Guinn
Language: eng
Format: epub, mobi
Publisher: Simon & Schuster



CHAPTER THIRTY-SIX
CONSEQUENCES
Jones's soft public words aside, the Gang of Eight defections left him determined to exert even more control over his followers. That kind of betrayal wouldn't happen again.
The new, tougher era started with the same inner circle that had been criticized as too white and too influential. Jones made his expectations of Carolyn Layton, Terri Buford, Jack Beam, Tim Stoen, and some other key members of the Planning Commission clear. They must be more observant and crack down on anyone displaying even the slightest sign of straying. To prevent any Planning Commission members from acting on traitorous thoughts themselves, Jones devised an effective method of ensuring their loyalty. Blank pieces of paper were distributed—some remember Carolyn Layton handing them out—and the P.C. members were instructed to sign their names at the bottom. If any of them angered Jones, he was free to fill in whatever "confession" he liked over their signatures, then display it to the rest of the Temple membership or even the police. Everyone complied. Tim Carter remembers, "It was like a loyalty test. That was the way we looked at it." The signed pages were kept carefully filed, ready for use if Jones deemed it necessary.
Previously, Jones mostly observed at P.C. meetings. Now he did much of the talking, most of it on some nights, though seldom about Temple programs and goals. Instead, Jones moaned about all the responsibilities placed on him, or else boasted about his sexual prowess, particularly how the women he favored with his attentions enjoyed unequaled carnal bliss. For Jones, this bragging was an effective way to remind everyone of his complete mastery. They were sometimes required to report on their own sex lives and sexual fantasies, occasionally in writing. Most understood that Father wanted these verbal and written responses to take the form of personal tribute. Sandy Bradshaw wrote, "The only person I have had sex with for the last eight years has been J." This was the kind of kowtowing Jones especially enjoyed—of course, Bradshaw wouldn't sleep with anyone else. She'd had him, and who else could compare? It was no coincidence that Bradshaw became one of his most trusted lieutenants.
The changes were more incremental for the general members, who had no idea of what took place at P.C. sessions, only that they were rumored to be interminable. There was still considerable fellowship, good times with good friends, and opportunities to help the downtrodden, to offer a socialist example that would encourage others to make the world a better, fairer place, and even the opportunity to travel, the kind of cross-country excursions that were far beyond the means of most ghetto dwellers. Better-heeled members might find crammed buses, bland box lunches, and gas station restroom stops to be annoying, but for many of Jones's followers, just the opportunity to get out on the road and see sights beyond the burned-out Watts Street and rat-infested Western Addition tenements seemed miraculous.
In August 1973, the Temple bus fleet, jammed from aisles to luggage racks with excited adults and kids, most of them black, set out from California for Washington, D.
Download


Copyright Disclaimer:
This site does not store any files on its server. We only index and link to content provided by other sites. Please contact the content providers to delete copyright contents if any and email us, we'll remove relevant links or contents immediately.