The Perfect Game by Sterling J
Author:Sterling, J. [Sterling, J.] , Date: April 6, 2021 ,Views: 29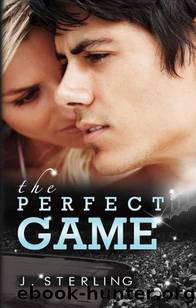 Author:Sterling, J. [Sterling, J.]
Language: eng
Format: epub
Published: 2012-10-10T16:00:00+00:00



TWELVE
JACK
The fact that some stranger had beaten up Kitten and stolen her camera drove me out of my fucking mind. It had been three weeks and her bruises had faded, but my anger hadn't. I never told her, but I cruised up and down that street every day, sometimes before and after baseball practice, looking for the asshole that had touched her. He was lucky I hadn't found him yet.
I also looked everywhere for her camera. I searched online, went to local pawnshops, but it didn't show up. I wanted justice for her…vengeance, really. But more importantly, I wanted to be the one to deliver it. And every day that I was denied that, my anger toward my cowardly teammates grew. I hadn't talked to any of the ones who were there that night, my temper flaring out of control whenever one of them was near.
I walked into the locker room and changed into my practice uniform in silence. "Carter!" Coach Davies shouted from his office. I glanced up and our eyes met. "Get in here," he demanded before turning his back to me. Coach was a good baseball player, but he was an even better man. He was the reason I chose Fullton State over the other schools. I wanted to play ball for someone I respected, and I respected Coach Davies.
I slammed my locker door shut and hustled into Coach's office. "Shut the door." He motioned before leaning back in his swivel chair. "Come sit."
I sat in the old wooden chair, my mind racing before he spoke. "Look, I don't know what's going on between you and your teammates. I heard something about your girlfriend getting beat up and I'm really sorry about that, but your team is your family and you need to work it out."
"No disrespect, Coach, but my family wouldn't let my girlfriend get the shit beat out of her while they ran away and hid."
Coach frowned. "I'm sorry, Jack, what did you say?"
"Four of your guys left her there alone. Brett took care of Dean, but everyone else bailed on her."
"Who does that?" His voice trailed off.
"I'll tell you who. My teammates. My so-called family. My brothers. I can't even look at them, let alone pretend like I respect them." I threw my hands up in the air, my voice disgusted. "Coach, it takes all of my willpower every single day to not beat the shit out of them. I'm sorry." I looked down.
"I didn't know the details, Jack. I'll take care of it on my end, but you have to promise me you'll work it out on yours. I can't have my team falling apart at the end of the season. And you need to keep your focus." He leaned toward me, his concern genuine.
"I'm focused. I'll be fine." I attempted to reassure him, but I could see he wasn't buying it.
"Don't quit on me, Carter. Don't quit on this team. Don't quit on yourself." His frown deepened.
"It's not in my nature, Coach. I don't quit.
Download


Copyright Disclaimer:
This site does not store any files on its server. We only index and link to content provided by other sites. Please contact the content providers to delete copyright contents if any and email us, we'll remove relevant links or contents immediately.