The Last Kings of Shanghai by Jonathan Kaufman
Author:Jonathan Kaufman [Kaufman, Jonathan] , Date: June 10, 2020 ,Views: 798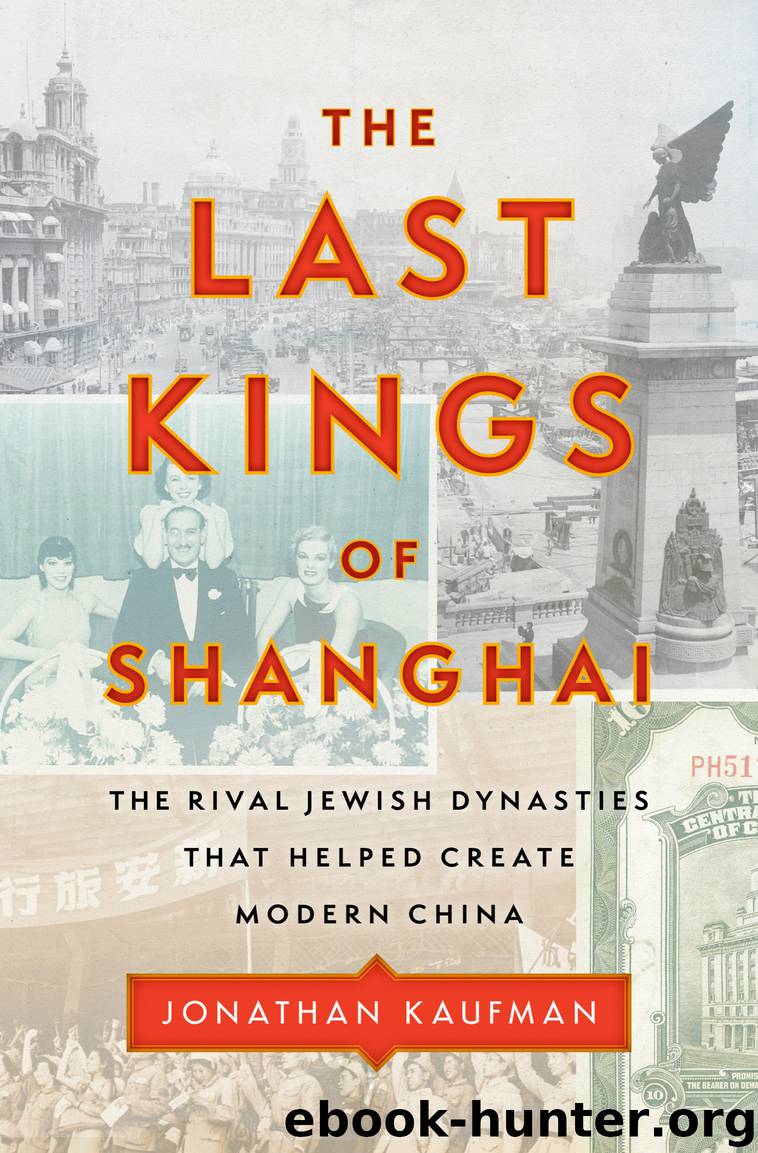 Author:Jonathan Kaufman [Kaufman, Jonathan]
Language: eng
Format: epub
Publisher: Penguin Publishing Group
Published: 2020-06-02T00:00:00+00:00



* * *
• • •
IN SEPTEMBER 1940, Japan formally joined Germany and Italy to form the Axis powers, strengthening the hand of Japanese hard-liners who were suspicious of Inuzuka's negotiations with Victor. The Nazis were turning their attention to the Shanghai Jews. Japanese officials demanded that Victor and the Jewish leaders give them a list of all the Jewish refugees—the same tactic the Nazis had used before rounding up Jews in Europe. "They are afraid of German Jews from Spain joining the Chinese, of German poison gas experts joining the Chinese," Victor confided to his diary. "They want [the] committee to find records of all German Jews in Hongkew!"
The Japanese-language newspapers in Shanghai, controlled by the military, began printing articles warning that the proliferation of Jewish merchants in Little Vienna undermined Japanese stores and businesses. Japanese officials invited members of the German Gestapo to Shanghai. The Gestapo visited Little Vienna and shut down a play written and performed by refugees that described the sufferings of Jews after the Nazis occupied Austria. Unless the play were stopped, "reprisals would be taken against Jews living in Germany and against Jewish émigrés here," a Shanghai newspaper reported.
The Japanese army "is behaving just as gangsters did in America during the days of Prohibition," Victor wrote to a friend. "Everyone has to pay for protection." A contingent of Japanese soldiers appeared at a cotton mill south of Shanghai that Victor owned and instructed him to sell them cotton at 40 percent of its value. They announced that if Victor rebuffed them, they would issue an order preventing him from selling his cotton to anyone else. "The Japanese here are queer," he wrote from his office in the Cathay Hotel. "The army are very annoyed with me and talk of having me 'dealt with,' which means kidnapped or bumped off whereas I am very popular now with the Older Government crowd and the Bankers and Industrialists in Tokyo who say that I have a clear mind, am absolutely correct in my views as a Britisher and must be cultivated as one likely to be a good friend of Japan when all the trouble is over."
At the Cathay, Victor tried to keep up spirits by showing spy movies to the dwindling foreign population. In Berlin, Hermann Goering denounced him as a "mischievous Hollywood playboy." Victor kept up hope that Germany wouldn't start a war and was disconsolate when Germany invaded Poland. A few months later he listened on the radio as France surrendered. "Bad news of French asking for terms," he wrote in his diary. In July 1940 Inuzuka demanded several meetings with Victor. He insisted that Victor invest in Japanese factories to show his good faith and ensure the safety of the refugees. "Told him no funds available," Victor recorded in his diary.
Inuzuka and the Japanese increased the pressure. They suggested that Victor merge his vast property holdings with a Japanese company to "safeguard" his real estate. Victor demurred and delayed a formal response. Finally, a Japanese officer arrived at Victor's office in the Cathay Hotel with two armed sergeants.
Download


Copyright Disclaimer:
This site does not store any files on its server. We only index and link to content provided by other sites. Please contact the content providers to delete copyright contents if any and email us, we'll remove relevant links or contents immediately.