The House of Gucci by Sara G Forden
Author:Sara G Forden [Forden, Sara G] , Date: June 11, 2019 ,Views: 213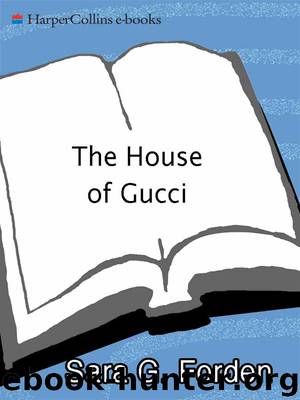 Author:Sara G Forden [Forden, Sara G]
Language: eng
Format: epub
ISBN: 9780062222671
Publisher: HarperCollins
Published: 2001-04-15T04:00:00+00:00



13
A MOUNTAIN OF DEBTS
Neither Morante nor anyone else realized that as Gucci's financial problems grew, so had Maurizio's own personal debts, which mounted to the tens of millions of dollars. He had told nobody about his outstanding loans until he finally confided in his lawyer, Fabio Franchini, in November of 1990. He had quickly run through the cash his father had left him in the Swiss bank account and had mortgaged his future on the bet that Gucci's turnaround would generate rich profits. He had taken out personal loans to finance the refitting of the Creole, the furnishing of a grand apartment on Corso Venezia in Milan, and ever-mounting legal fees to fight his relatives. Franchini had been initially hired by Maria Martellini to help straighten out Gucci's legal affairs during her custodianship—and was invited to stay on by Maurizio when he resumed the chairmanship. Franchini had never forgotten one of Martellini's first comments about Maurizio. "Maurizio Gucci," she had said, "is sitting on a mountain of wealth." Instead, Franchini realized in dismay, Maurizio was sitting on a mountain of debts.
"I was flabbergasted," Franchini said later. Maurizio admitted to Franchini that his personal debts amounted to some $40 million. The bulk of the money was owed to two banks: Citibank in New York and Banca della Svizzera Italiana in Lugano. Maurizio explained to Franchini that the banks wanted to be paid back, but he didn't know where to get the money. With the Gucci business in the red, he had no income from his 50 percent stake. His only other assets were his real estate holdings in Saint Moritz, Milan, and New York, most of which were already mortgaged. Maurizio had never responded to his bankers' letters or returned their phone calls. Franchini started a seemingly endless round of appointments with new banks and entrepreneurs in another fruitless search for funding to help Maurizio.
In the meantime, pressure mounted on Investcorp as Gucci's poor performance weighed heavily on Kirdar and his team, especially as they had just spent more than $1.6 billion to buy Saks Fifth Avenue in 1990 amid market criticism that Investcorp had grossly overpaid for the high-end retailer. By 1991, Gucci had lost nearly 38 billion lire, or some $30 million.
"A major complication was that the same investors that had gotten into Gucci were also in Chaumet and Breguet, which weren't exactly home runs. People were unhappy," said a former Investcorp executive. Kirdar sent Bill Flanz to Milan full time to exert more control over Maurizio.
An unassuming, soft-spoken man in his late forties, Bill Flanz had worked on the acquisition of Saks Fifth Avenue. He knew how to listen to people, nodding his balding head understandingly as he blinked his pale blue eyes behind thin tortoiseshell glasses. Even under pressure, he radiated a sense of calmness and peace of mind, qualities that had gotten him through some tight situations. In Tehran, he had negotiated with the Khomeini government in his smooth, measured voice over the nationalization of a bank after the fall of the Shah.
Download


Copyright Disclaimer:
This site does not store any files on its server. We only index and link to content provided by other sites. Please contact the content providers to delete copyright contents if any and email us, we'll remove relevant links or contents immediately.