The Hollywood Book of Death : The Bizarre, Often Sordid, Passings of More than 125 American Movie and TV Idols by Parish James
Author:Parish, James [Parish, James] , Date: September 19, 2023 ,Views: 69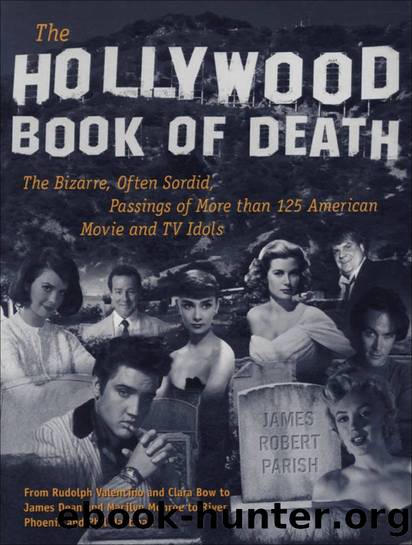 Author:Parish, James [Parish, James]
Language: eng
Format: epub
Publisher: Contemporary Books of McGraw Hill
Published: 2001-10-29T00:00:00+00:00



Tyrone Power
[Tyrone Power Jr.]
May 5, 1913–November 15, 1958
Tyrone Power's frequent costar, Alice Faye, said it all: "He was the best-looking thing I've ever seen in my life. Kissing him was like dying and going to heaven." But being especially handsome can also be a professional curse. Ty grew bored with the endless pretty-boy and swashbuckler screen roles he played; he wished to be acknowledged as a serious actor. It was a creative battle he would fight all his life. When he died (on a movie set, like his father before him), Ty was shooting another of those costumed sword-and-horse-play epics he had grown to hate so much.
He was born in 1913 in Cincinnati, Ohio, to actors known professionally as Tyrone and Patia Power. A daughter, Ann, was born in 1915. Two years later, the family relocated to San Diego, California, because of Ty Jr.'s frail health. The boy made his stage debut at age seven, as a monk in the annual mission play. The Powers later returned to Ohio, and Ty graduated from high school there in 1931. That same year he appeared with his dad in a Chicago production of The Merchant of Venice, did radio dramas, and appeared with his parent in a Broadway production of Hamlet. Tyrone Power Sr. traveled to the West Coast in late 1931 for a film role. He suffered a massive heart attack on the soundstage and died soon afterward, in the arms of his 18-year-old son.
Ty Jr. made his screen debut as a schoolboy in Tom Brown of Culver (1932), but didn't get another screen opportunity for two years. The discouraged young actor headed east, stopping off in Chicago for radio and stage work. Reaching New York, he was introduced to Katharine Cornell. He understudied and played bit parts in three of her 1935-36 plays. A Twentieth Century-Fox talent scout saw Power onstage and offered him a studio contract. After two warm-up movies, Tyrone starred in the elaborate costume picture Lloyds of London (1936), which set the tone of his entire career—swashbuckling adventure stories. He was the newest rival to Warner Bros.' Errol Flynn.
The studio also cast Power in light fluff with Loretta Young or Sonja Henie, and sometimes in big-budget period musicals with Alice Faye, such as Alexander's Ragtime Band (1938). Ty was so adept, however, at costume romance films filled with swordplay that he usually toiled in such productions as The Mark of Zorro (1940), Blood and Sand (1941), and The Black Swan (1942). Rarely was he permitted a dramatic challenge like that of Johnny Apollo (1940). In 1939, he wed the French-born actress Annabella (and adopted her daughter by a prior marriage), but this did not stop the conflicted, bisexual actor from having several romances during the next decade, including flings with Judy Garland and Lana Turner.
Tyrone escaped the Hollywood treadmill by enlisting as a private in the U.S. Marine Corps in August 1942. After delays in which he made a picture (Crash Dive, 1943) and spent an extended
Download


Copyright Disclaimer:
This site does not store any files on its server. We only index and link to content provided by other sites. Please contact the content providers to delete copyright contents if any and email us, we'll remove relevant links or contents immediately.