The Golden Rules: 10 Steps to World-Class Excellence in Your Life and Work by Bob Bowman & Charles Butler
Author:Bob Bowman & Charles Butler , Date: December 2, 2017 ,Views: 1026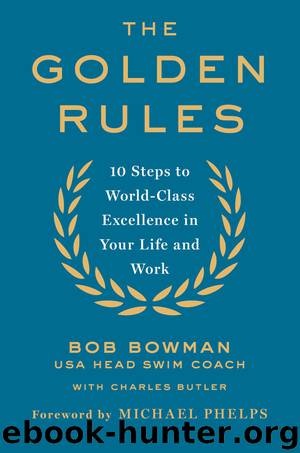 Author:Bob Bowman & Charles Butler
Language: eng
Format: mobi
ISBN: 9781466864573
Publisher: St. Martin's Press
Published: 2016-05-16T14:00:00+00:00



7
RULE 6: A TEAM APPROACH CAN BRING INDIVIDUAL SUCCESS
Often—okay, very often—when I'm introduced to an audience or quoted in a newspaper article, my name comes with an appendage: Bob Bowman, "Michael Phelps's personal coach." It is sort of like how Tonto is always referred to as "the Lone Ranger's sidekick" and Hannibal Hamlin's name is usually followed by "Abraham Lincoln's first vice president."
Now, don't me wrong. My association with the greatest Olympian of all time is eternally flattering and eminently rewarding. It's taken me to the front row of history and brought me to the heights of a sport I love. But I sometimes cringe when I see "personal coach" because in many ways that description masks more than it reveals. Those who don't know the two of us may think that I've been Michael's one and only mentor or confidant over the years or that I've had some Svengali-like hold over him, a Wizard of Ahs pushing buttons that propel him through the water and by competitors and to medal stands and to the riches that come with global stardom.
Oh, if only I had such power.
Yes, over the past two decades Michael and I have had perhaps the closest coach-athlete relationship in sports. I'd say the only one that rivals ours is the pairing of Gregg Popovich and Tim Duncan, which started in 1997, the same year that Michael and I teamed up. (With those two leading the way, the San Antonio Spurs have won five NBA titles.) In our time together, Michael and I have spent thousands of hours on pool decks contemplating racing techniques and training plans, and in airports traveling to competitions, and at press conferences talking to the media, and with manufacturers developing new swimsuits, and at dinner … just talking. We've become family.
That said, I know that the success Michael has enjoyed is the product of a team of people, not of a pair of individuals. Early on, when I saw the enormous talent Michael had, I recognized the need to assemble a cadre of advisers and assistants who would help him reach the level he seemed destined for. As such, while Michael may be the most decorated individual Olympic champion of all time, it's the multitude of Team Phelps members who deserve accolades (if not medals) for guiding him to that distinction.
Who composes Team Phelps? Mostly people with whom the public isn't that familiar. It's the doctors and trainers and sports psychologists who work with Michael and with many of my swimmers. It's Rich Wilkens, who started at Meadowbrook working in the snack bar as a teenager and is now my director of operations, the one who makes sure that if an athlete has to be in Barcelona on May 3 for a meet she's there. It's Cathy Bennett, who taught Michael how to swim even though "he didn't like to get his face wet at first," as she likes to tell people. Today, Cathy directs the Michael Phelps Swim School, which has operations around the world.
Download


Copyright Disclaimer:
This site does not store any files on its server. We only index and link to content provided by other sites. Please contact the content providers to delete copyright contents if any and email us, we'll remove relevant links or contents immediately.