The Godfather by Mario Puzo & Anthony Puzo
Author:Mario Puzo & Anthony Puzo [Puzo, Mario & Puzo, Anthony] , Date: December 15, 2020 ,Views: 421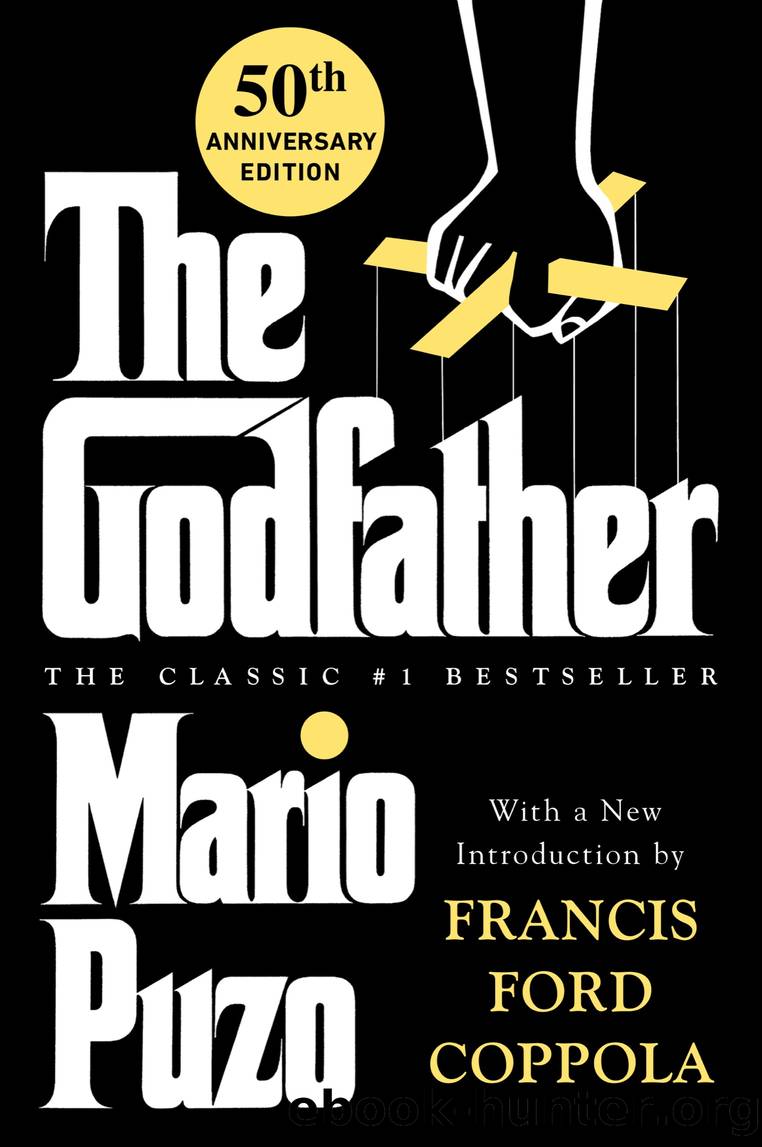 Author:Mario Puzo & Anthony Puzo [Puzo, Mario & Puzo, Anthony]
Language: eng
Format: epub
Publisher: Penguin Publishing Group
Published: 2005-10-04T00:00:00+00:00



BOOK IV
Chapter 15
In the New Hampshire village, every foreign phenomenon was properly noticed by housewives peering from windows, storekeepers lounging behind their doors. And so when the black automobile bearing New York license plates stopped in front of the Adams home, every citizen knew about it in a matter of minutes.
Kay Adams, really a small-town girl despite her college education, was also peering from her bedroom window. She had been studying for her exams and preparing to go downstairs for lunch when she spotted the car coming up the street, and for some reason she was not surprised when it rolled to a halt in front of her lawn. Two men got out, big burly men who looked like gangsters in the movies to her eyes, and she flew down the stairs to be the first at the door. She was sure they came from Michael or his family and she didn't want them talking to her father and mother without any introduction. It wasn't that she was ashamed of any of Mike's friends, she thought; it was just that her mother and father were old-fashioned New England Yankees and wouldn't understand her even knowing such people.
She got to the door just as the bell rang and she called to her mother, "I'll get it." She opened the door and the two big men stood there. One reached inside his breast pocket like a gangster reaching for a gun and the move so surprised Kay that she let out a little gasp but the man had taken out a small leather case which he flapped open to show an identification card. "I'm Detective John Phillips from the New York Police Department," he said. He motioned to the other man, a dark-complexioned man with very thick, very black eyebrows. "This is my partner, Detective Siriani. Are you Miss Kay Adams?"
Kay nodded. Phillips said, "May we come in and talk to you for a few minutes. It's about Michael Corleone."
She stood aside to let them in. At that moment her father appeared in the small side hall that led to his study. "Kay, what is it?" he asked.
Her father was a gray-haired, slender, distinguished-looking man who not only was the pastor of the town Baptist church but had a reputation in religious circles as a scholar. Kay really didn't know her father well, he puzzled her, but she knew he loved her even if he gave the impression he found her uninteresting as a person. Though they had never been close, she trusted him. So she said simply, "These men are detectives from New York. They want to ask me questions about a boy I know."
Mr. Adams didn't seem surprised. "Why don't we go into my study?" he said.
Detective Phillips said gently, "We'd rather talk to your daughter alone, Mr. Adams."
Mr. Adams said courteously, "That depends on Kay, I think. My dear, would you rather speak to these gentlemen alone or would you prefer to have me present? Or perhaps your mother?"
Kay shook her head.
Download


Copyright Disclaimer:
This site does not store any files on its server. We only index and link to content provided by other sites. Please contact the content providers to delete copyright contents if any and email us, we'll remove relevant links or contents immediately.