Ellery Queen - 1965 - The Fourth Side of the Triangle by Ellery Queen
Author:Ellery Queen [Queen, Ellery] , Date: June 3, 2021 ,Views: 1370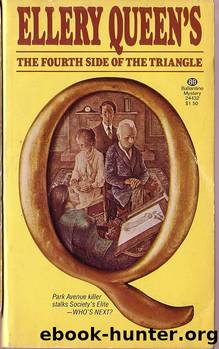 Author:Ellery Queen [Queen, Ellery]
Language: eng
Format: epub
Published: 2012-01-15T12:12:41+00:00



"expert psychiatric opinion" that the lapsus linguae might well have been a Freudian slip by which the accused confessed his guilt. As for O'Brien, he frowned ever so slightly; he did not care for witnesses who volunteered information on the stand, especially defendants. He was taken off the hook by the district attorney, who had not caught the inference and was fretting about the accused's sitting around the courtroom like an actor at a dress rehearsal. He said so, emphatically.
"The defendant will remain in make-up only a little while longer, Your Honor," O'Brien said, "and only for the purpose of having one other witness corroborate his identity."
Judge Suarez waved, and O'Brien went on: "I will ask you to tell us once again, Mr. McKell, of your arrival at Miss Grey's apartment on the night of September 14th, and of what happened subsequently." He led Ashton through his story. "Then you don't remember the name of the bar? Or where it was located?"
"I do not."
"Your witness."
De Angelus's cross-examination was long, detailed, theatrical, and futile. He could not shake the defendant's story, although he spattered it liberally with the mud of doubt. In the end McKell sat labeled adulterer, home-wrecker, betrayer of trust in high places, perverted aristocrat, corrupt citizen of the democracy, and above all murderer. It was an artistic job, and it made Dane and Judy writhe; but no flicker of anger or resentment—or shame—touched the elder McKell's stone-hard face; and Robert O'Brien simply listened with his big head cocked, boyishly attentive, even—one would have thought—a little pleased.
When the district attorney sat down, sated, O'Brien idly said, "Call Matthew Thomas Cleary to the stand."
A thick-set man with curly gray hair was sworn. He had a squashed nose and round blue eyes that seemed to say: We have seen everything, and nothing matters. His brogue was refreshing, delivered in a hoarse voice.
He was Matthew Thomas Cleary, part owner and sometime bartender of the Kerry Dancers Bar and Grill on 59th Street off First Avenue. He had never been in trouble with the law, saints be praised.
"Now, Mr. Cleary," O'Brien said easily, walking over to "Dr. Stone" and touching his shoulder, "have you ever seen this man before?"
"Yes, sor. In me bar one night."
O'Brien strolled back to the witness stand. "You're sure, Mr. Cleary?
Download


Copyright Disclaimer:
This site does not store any files on its server. We only index and link to content provided by other sites. Please contact the content providers to delete copyright contents if any and email us, we'll remove relevant links or contents immediately.