The Best American Mystery Stories 2020 by C. J. Box;Otto Penzler;
Author:C. J. Box;Otto Penzler; , Date: November 5, 2020 ,Views: 402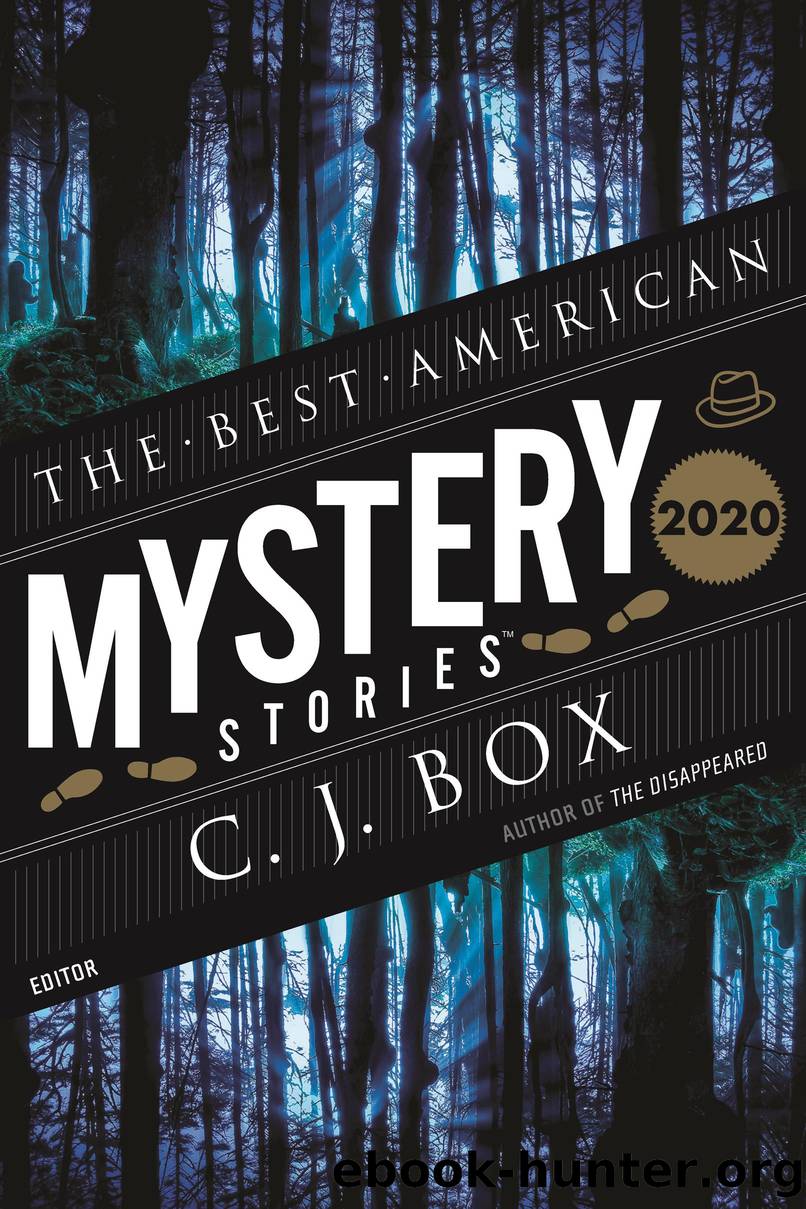 Author:C. J. Box;Otto Penzler;
Language: eng
Format: epub, mobi
ISBN: 9781328636126
Publisher: Houghton Mifflin Harcourt Publishing Company
Published: 2020-11-03T00:00:00+00:00



* * *
Helen's aunt Lettie took a while to find her cell phone, but when she did, she loaned it to them with her blessing. Marcie and Pearson arrived back at Helen's apartment within an hour.
And found that they had company.
Two men in dark suits were standing in the bedroom. One of them, who looked like he'd just taken a bite out of a lemon, said, without a handshake, "Detective Murphy. State police." He pointed to his partner and added, "This is Detective Ellington. We'll take it from here."
Marcie glanced at Spencer, gave him a Did you do this? look. He shrugged and appeared clueless. She figured the big boys at the main bank had called the big boys in Cheyenne.
"I doubt you have the vast resources required for something like this," Murphy said.
Grinding her back teeth, Marcie said, "The crime happened in my county, Detective."
"But I suspect the criminals are no longer in your county, Sheriff." He looked down at the cell phone in Marcie's hand. "And it sounds like this will tell us for sure. Ms. Wilson, would you do the honors?"
Helen, still in bed, took her aunt's phone from Marcie, tapped some buttons, studied it a moment, and handed it back. Everyone crowded in to see.
On the screen was a map with a red dot in the middle. The location wasn't approximate; it was exact. According to the GPS, Helen's missing cell phone was now at an address on the northeast corner of Hill Street and Lancaster, in the small town of Florence. Sixty miles south.
They watched the screen for several minutes. The red dot didn't move.
Detective Ellington took out his own phone and Googled the address shown on the GPS map. After a moment he looked up at his partner. "Two-twenty Lancaster Street," he said, "is a place called the Traildrive Motel."
Murphy nodded, his eyes on the screen. The red dot stayed put.
"We got 'em," he said.
Download


Copyright Disclaimer:
This site does not store any files on its server. We only index and link to content provided by other sites. Please contact the content providers to delete copyright contents if any and email us, we'll remove relevant links or contents immediately.