The Corporate Wife Handbook by Sarah Watson
Author:Sarah Watson , Date: March 20, 2020 ,Views: 350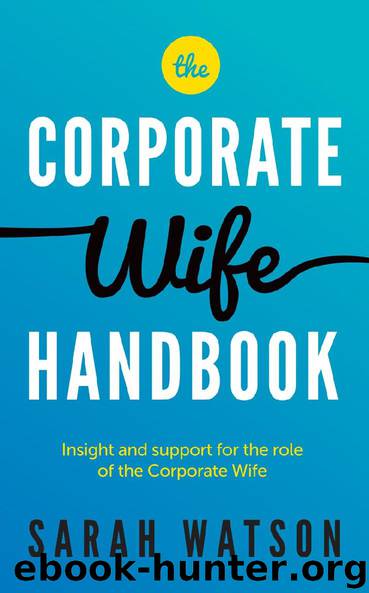 Author:Sarah Watson
Language: eng
Format: epub
ISBN: 9781784522940
Publisher: Panoma Press Ltd



First Contact
Looking people in the eye is crucial. A proper handshake is crucial. Smiling is crucial. Acknowledging the person verbally is crucial.
All this is simple courtesy and common sense. If you greet a person with warmth and a friendly demeanour, the interaction gets off to a good start. They will gain an impression of you in those first few moments, so make sure it's the right one as you only get one chance.
When I was meeting people at corporate events for the first time, or even if I had met them before but still didn't know them very well, I had two main thought processes with my approach. I reminded myself that the person I wanted to talk to could be shyer than me and nervous about making an effort, so I persuaded myself that my bravery was doing us both a favour! I still take that approach.
I also remembered that most people enjoy talking about themselves, even shy people. Therefore I would ask questions that showed my interest in the people I was meeting within the corporate environment. If you show an interest in people, it is a great way of breaking the ice, and they usually make a comment that you can build on to develop the conversation later on.
If the person I was talking to asked about me in return, I would respond with a simple answer rather than dominating the conversation. If they wanted to know more, they would ask. Give enough of a response to engage in conversation, but hold back initially to enable different conversations to flow later on. Rest assured – this approach was not based on me being nervous or unsure of the person I was talking to, or even that I was trying to create an air of mystery about myself. My view was that if I told the whole story, chapter and verse, what would the listener be left with? If I've said it all, all they can do is acknowledge what I've just said. End of that particular line of conversation.
This was a dilemma I was faced with as I was building up my understanding of the corporate networking environment. Now, being in that environment feels natural and automatic, and I obviously hope this will become the case for you too.
Let's give an example to demonstrate what I mean about showing an interest in others.
I am meeting a client and his wife for the first time at an event. The wife and I have swapped pleasantries, and we now need to get a conversation flowing.
She then says, "Today was a bit chaotic before coming here as my daughter is teething and was having a bad day."
I could respond in one of two ways.
"My children had a terrible time with teething too – let me tell you how I dealt with it…"
I have instantly shut her off, preferring to give her my apparent expertise rather than listening to her, thereby closing down any flow of conversation.
Instead I could respond by
Download


Copyright Disclaimer:
This site does not store any files on its server. We only index and link to content provided by other sites. Please contact the content providers to delete copyright contents if any and email us, we'll remove relevant links or contents immediately.