The Bonjour Effect: The Secret Codes of French Conversation Revealed by Barlow Julie & Nadeau Jean-Benoit
Author:Barlow, Julie & Nadeau, Jean-Benoit [Barlow, Julie] , Date: May 29, 2016 ,Views: 522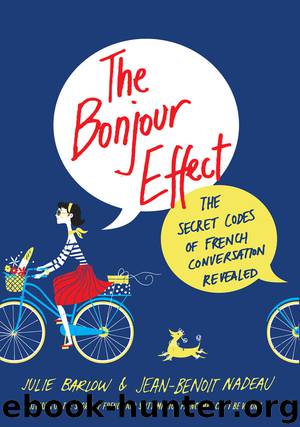 Author:Barlow, Julie & Nadeau, Jean-Benoit [Barlow, Julie]
Language: eng
Format: epub
ISBN: 9781250102447
Publisher: St. Martin's Press
Published: 2016-04-19T04:00:00+00:00



12
English Envy
We were in France for the seventieth anniversary of D-day, in June 2014. It was the third time we'd watched the French commemorate the Normandy landings, but it was the first time we heard them refer to it as le D-day, using the English term. The previous time, the French called it le Jour J, which is an exact translation. Jean-Benoît scoured French media databases to see when the switch to the English term had actually occurred. He found 2,900 articles published after 1999 with le D-day in the title, but only 900 before 2013. The English translation had taken over in 2014.
From our first days in France, we felt like we were in the middle of another kind of "landing." English was everywhere: on billboards, in TV commercials, in storefront windows, in political slogans, protest posters—French cafés even advertised happy hour in English. The French capital is home to almost every international franchise on the planet, from Tie Rack and The Body Shop to Starbucks, so English has been part of the Parisian landscape for decades.
But what we witnessed went beyond major brand names. Our apartment was in the Latin Quarter, virtually the world headquarters of French, and yet someone had opened near the Luxembourg Gardens an outlet of a British chain called Eat Well: Bagels, Cookies and More. The French were even giving their homegrown businesses English names. A clothes store in Paris's Marais neighborhood called Kulte advertised itself as "The French Brand." The streets were full of stores with English-French hybrid names, like the lingerie shop Woman Secret, which advertised "Sexy Daily" sales in its window. English was even creeping into places where it had no business we could imagine. Paris's Palais des Beaux-Arts held an exhibition on international cuisine and called it Cookbook, l'art et le processus culinaire (Cookbook, culinary art and process). We couldn't believe our eyes.
The phenomenon wasn't limited to Paris. We spent a weekend in the southern department of the Landes, which shares a border with Spain and whose economy runs on tourism and lumber. Two lumber shops in one village we visited were called, respectively, Gascogne Wood Products and All Wood. Later, Jean-Benoît went to a literary event in the town of Bourges, in central France, at a bookstore called Cultura, and discovered the store's catalogue was called Creativ by Cultura, in English, even though it only listed French books being sold to French people.
Talking to the French we had the impression that the whole country had come down with a serious case of English envy. The French were either open to English or fatalistic about it—it was hard to tell the difference given the French knack for putting a negative spin on good news. Whatever the case, there had been a conspicuous shift in attitudes. Our friend François Digonnet informed us that he thought English was "liberating." This was startling, since ten years ago, this French anarchist (who actually doesn't speak English) routinely recited anti-American rants like the rest of the French Left, and he still claimed he wouldn't travel in the United States on principle.
Download


Copyright Disclaimer:
This site does not store any files on its server. We only index and link to content provided by other sites. Please contact the content providers to delete copyright contents if any and email us, we'll remove relevant links or contents immediately.