Bang Poland: How To Make Love With Polish Girls In Poland by Roosh V
Author:Roosh V , Date: March 27, 2014 ,Views: 1380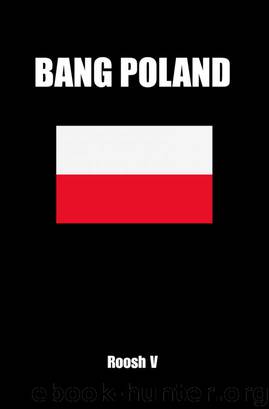 Author:Roosh V
Language: eng
Format: epub, mobi
Tags: poland, roosh, roosh v, poland guidebook, poland travel guide, polish girls
Publisher: Roosh V



"In America we have a hookup culture, not a dating culture. People go out, get drunk, and take each other home quickly. If we were in America right now, we probably would've already had sex. I'm not saying that's bad, because I like sex, but what happens is that you have sex first, before getting emotions involved. You just get used to it. Back home, everyone is a slut, because everyone fucks around, so that word is rarely used."
I hope you see what I did there. I've started to remove any guilt or doubt that I'd judge her for having sex with me, because that's really the main barrier to fucking Polish girls quickly. The beauty of this routine is that it's reality, at least for alpha males in America and the women who love them. It's only a slight shading of the truth that lets her know it's okay to have fast sex.
A common question she'll ask after this routine is why you don't like American girls if they're so easy to get in bed. This is where you can share your real thoughts on the matter. I say that even though the sex is easy, I have trouble building a connection with them. I list their flaws in an unemotional way, like how they've become more independent and masculine at the cost of their femininity. I state that I think Polish women are superior because they're "sweet, kind, feminine, sexy, gentle, caring, intelligent, funny, and not nearly as fat."
I found that openly praising Polish women didn't hurt my chances or lower my value. If anything, it built a stronger connection because it indirectly showed that I was serious about forming a relationship with a Polish girl. By the end of my stay in Poland there had to be a hundred Polish women that remembered the hairy American guy she met in the club who hated his country's women with a passion and thought Polish women were better.
The third routine is the Dirty Routine. This one frees her inner slut from bondage and ensures that she'll be uninhibited when sex does occur. I did it after I got the kiss out of the way, perhaps after a kissing session where I sensed that her passion was increasing. I'd say, "I have to be honest, I like dirty girls. I like girls who are wild and nasty in bed, like an animal. Are you a dirty girl?"
If she says "No" or "I don't think so," say "Oh, that's too bad," then jokingly add, "I'm going to go talk to that girl over there. She looks dirty." Pretend you're about to leave then return and give her a quick kiss or intimate grab.
If she says "Yes," fire off a joke: "Let's get married. There's a flight leaving for Vegas in one hour." What I like about this routine is that sometimes you can notice its effect in the very next kiss. She'll start to bite you, use more tongue, or rub against your cock on the dance floor.
Download


Copyright Disclaimer:
This site does not store any files on its server. We only index and link to content provided by other sites. Please contact the content providers to delete copyright contents if any and email us, we'll remove relevant links or contents immediately.