Merde in Europe by Stephen Clarke
Author:Stephen Clarke [Clarke, Stephen] , Date: December 27, 2017 ,Views: 1304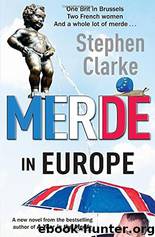 Author:Stephen Clarke [Clarke, Stephen]
Language: eng
Format: epub
Tags: Comedy
ISBN: 9781780896038
Google: dPmpCwAAQBAJ
Amazon: B01CHNXDWE
Goodreads: 28352420
Publisher: Century
Published: 2016-05-04T22:00:00+00:00



15
'No alcohol sales during the week, says Brussels.'
Report in the British press, 2005
NEXT MORNING I decided to go into work on the underground. Apart from anything else, I felt incapable of the twenty-minute walk to work.
A certain queasiness was on the menu, both as a starter and a main course. Why do continental Europeans always think that Asian food goes with wine? Asian food goes with beer, everyone knows that. Wine and spices are a lethal combination – your stomach thinks it's Christmas, a time of mulled wine and general excess, and goes into self-protective mode.
And if the first thing you see when you go into the kitchen next morning is a cat-litter tray full of what looks like shit-flavoured muesli, who wouldn't be queasy?
That wasn't the only reason I was feeling a little delicate, though. During the night Danny's remarks about Anglo-French goings-on had fermented in my mind. I needed to ask Elodie some questions, and was a bit worried about the answers – or lack of answers – I might get.
To make things worse, there hadn't been any calls from cat owners yet. I promised myself that if nothing happened during the day, I'd get on to a pet refuge that evening. Sorry, mog, I told it, as it munched happily on the vile-stinking meat that came out of the can with a cute furry name printed on it, but I'm much too young to turn into a cat lady.
You have to laugh at the Brussels Métro. Fondly, of course. The city is trying so hard to be an international capital that it claims to have six underground lines. But in the city centre, they all seem to follow the same tracks. Some lines don't have any stations to themselves at all, they just duplicate what other lines are doing. Most of the network consists of a circle around the centre, with a little criss-cross in the middle. The rest is just a few short excursions out to the suburbs.
But I got on a little train that had its face painted orange, and that was fast, clean and airy, so I had no complaints at all, except that the colour reminded me of the damn cat.
I was just wondering how you transported an unwilling feline with claws and teeth to a pet refuge – drugs, perhaps? alcohol? for me, not the cat – when I recognised one of the passengers. It was Cédric. Funny, I hadn't seen him walking to the station.
He was standing up, slumped against a metal pole, looking like a partially deflated balloon. Not that he was ever that puffed-up to start with. I was tempted to go and hang on to him, so that he wouldn't get dislodged by the speed of the train and start floating down the carriage.
'Bonjour,' I said, but he seemed to be asleep. Maybe he was on his second trip around the Métro's inner circle.
'Cédric,' I said, louder, and he groaned in reply.
'Too much wine,' he said, needlessly. His eyes struggled to focus on my face.
Download


Copyright Disclaimer:
This site does not store any files on its server. We only index and link to content provided by other sites. Please contact the content providers to delete copyright contents if any and email us, we'll remove relevant links or contents immediately.