Step Back by Joseph L. Badaracco
Author:Joseph L. Badaracco [Joseph L. Badaracco] , Date: June 30, 2020 ,Views: 238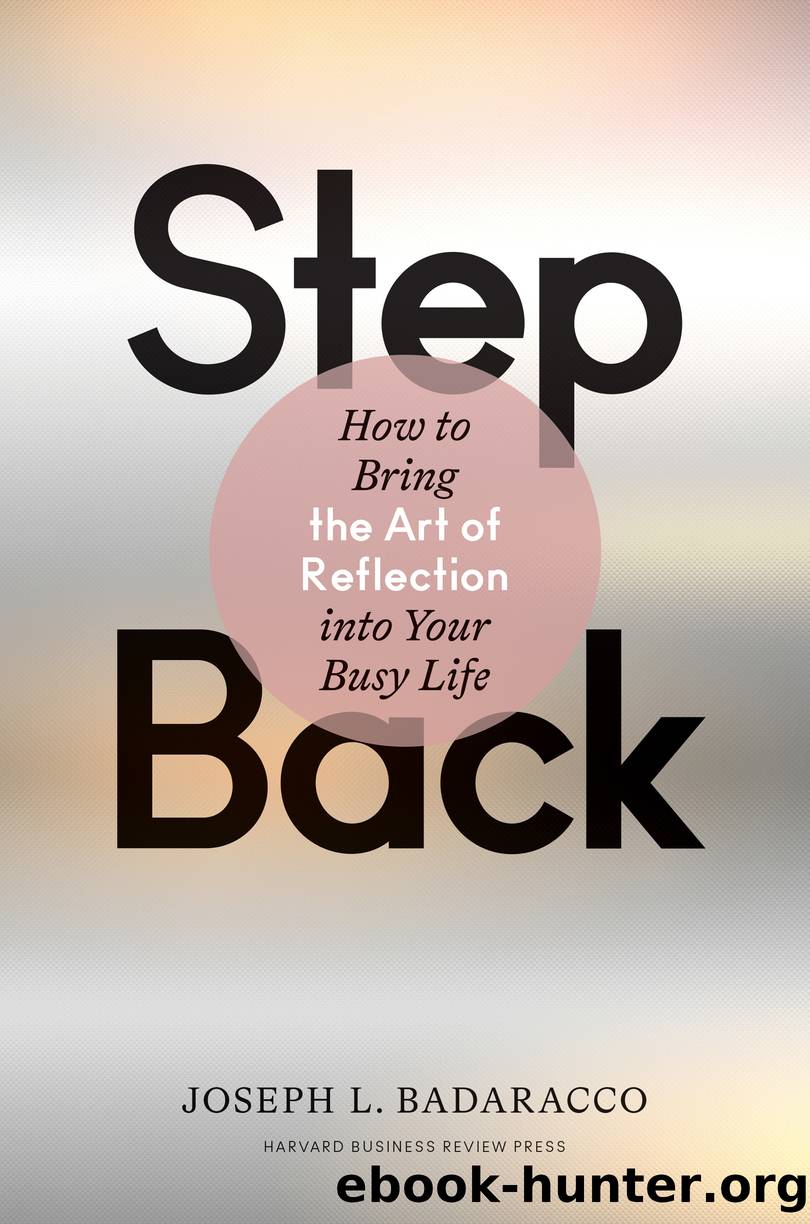 Author:Joseph L. Badaracco [Joseph L. Badaracco]
Language: eng
Format: epub
Publisher: Harvard Business Review Press
Published: 2020-07-13T16:00:00+00:00



Rely on Anchoring Questions
In some ways, pondering resembles a solar system. At its center is a question or concern, like the question of whether Mateo should take the new job. A variety of thoughts, feelings, intuitions, and impressions orbit around it. The gravitational pull of the central question or concern should keep your thoughts from drifting away. But actually doing this can be difficult because, when you want to ponder a question or an issue, you face two challenges.
One is staying focused on whatever question or issue you want to really think through. You want to let your mind range widely in order to find new perspectives, but the risk is that something comes along—a striking impression, a compelling idea, or a strong feeling—and hijacks your attention. This is the obstacle to all reflection that originates in our restless, zigzagging minds. The other challenge can be generating new perspectives, because our thoughts and feelings often run in well-worn grooves and ruts.
One way to deal with both problems is by asking yourself one of several questions and spending a few minutes answering it. These questions are mental anchors that help you stay focused on your central concern while, at the same time, expanding your perspectives.
For example, you can ask yourself to imagine—in a vivid, concrete, visual way—the important aspects of whatever you are pondering. Mateo did this when he considered the new position. As he put it:
This wasn't just analytical thinking. Oh no, totally, totally I was projecting myself into the new position. So one example is that I started to look at real estate in the capital, and I asked what could I afford.
… What it does is make it real. You start thinking about how you would spend weekends and the people you would meet, the food, the lifestyle, everything. It's like watching a little video in your mind and deciding, "I'd like to do this but I wouldn't like to do that."
Download


Copyright Disclaimer:
This site does not store any files on its server. We only index and link to content provided by other sites. Please contact the content providers to delete copyright contents if any and email us, we'll remove relevant links or contents immediately.