Speaker for the dead (ew-2) by Orson Scott Card
Author:Orson Scott Card [Card, Orson] , Date: March 19, 2018 ,Views: 883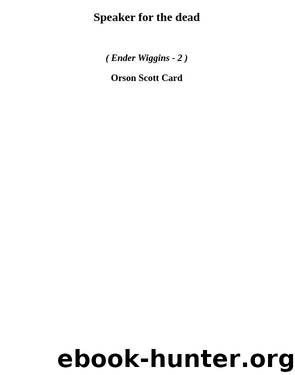 Author:Orson Scott Card [Card, Orson]
Language: eng
Format: epub
Tags: sf



Chapter 13
Ela
MIRO: The piggies call themselves males, but we're only taking their word for it.
OUANDA: Why would they lie?
MIRO: I know you're young and naive. but there's some missing equipment.
OUANDA: I passed physical anthropology. Who says they do it the way we do it?
MIRO: Obviously they don't. (For that matter, WE don't do it at all.) Maybe I've figured out where their genitals are. Those bumps on their bellies, where the hair is light and fine.
OUANDA: Vestigial nipples. Even you have them.
MIRO: I saw Leaf-eater and Pots yesterday, about ten meters off, so I didn't see them WELL, but Pots was stroking Leaf-eater's belly, and I think those belly-bumps might have tumesced.
OUANDA: Or they might not.
MIRO: One thing for sure. Leaf-eater's belly was wet– the sun was reflected off it– and he was enjoying it.
OUANDA: This is perverted.
MIRO: Why not? They're all bachelors, aren't they? They're adults, but their so-called wives haven't introduced any of them to the joys of fatherhood.
OUANDA: I think a sex-starved zenador is projecting his own frustrations onto his subjects.
– Marcos Vladimir "Miro" Ribeira von Hesse and Ouanda Quenhatta, Figueira Mucumbi, Working Notes, 1970: 1:430
Download


Copyright Disclaimer:
This site does not store any files on its server. We only index and link to content provided by other sites. Please contact the content providers to delete copyright contents if any and email us, we'll remove relevant links or contents immediately.