Slow Dance in Purgatory by Amy Harmon
Author:Amy Harmon [Harmon, Amy] , Date: January 11, 2015 ,Views: 1581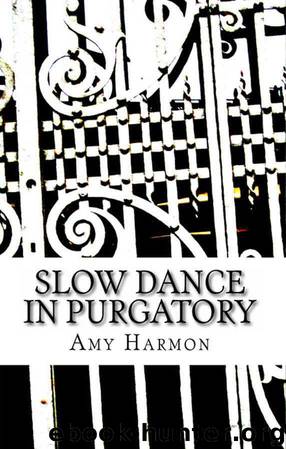 Author:Amy Harmon [Harmon, Amy]
Language: eng
Format: epub, mobi
ISBN: 9781475043808
Google: 9HWjuAAACAAJ
Amazon: 1475043805
Publisher: CreateSpace
Published: 2012-03-21T13:00:00+00:00



***
It took some doing, but Maggie was able to convince her aunt to take a quick drive in the Cadillac Sunday evening to prove her claims of a miraculous recovery. Irene ended up cruising for a half hour and was thrilled to pronounce the car healed. By that time, Shad had arrived and remained thankfully silent on the subject of the car.
He had selected a violent show about inner city gangs that he pretended to think was awesome, but Maggie was pretty sure he hated it as much as she did. They ended up ignoring the show and tossing popcorn in the air and catching it in their mouths. A competition ensued, and Maggie ended up crushing Shad by about twenty successful catches. Shad shrugged nonchalantly, claiming a real man always lets his lady win.
"Shad," Maggie groaned with exasperation. "You've got to stop saying stuff like that. I am not your lady. I am not your girl; this is not a relationship. This is a friendship. I am your friend. You are my friend." Maggie spoke slowly and gripped his thin shoulders. He was still shorter than she, and she had to bend her knees a little to force the eye contact.
Shad pulled away and slouched dejectedly on the couch. Maggie hovered, hoping he would laugh it off and all would be well between them. When he didn't, she flopped down beside him and worried the hole in her jeans so she wouldn't worry a hole in her brain.
"Why, Maggie?" Shad said meekly, lifting his liquid brown eyes to hers. "What is it about me that makes me so hard to love and so easy to leave?"
So that's what this was all about. Maggie felt heartsick and miserable. This conversation was about more than just Maggie not wanting to be Shad's girlfriend. It couldn't be a coincidence that he had gotten needy and aggressive just about the time his mom decided to come back around, reminding Shad just where he had always ranked in her priorities. Maggie was no stranger to this kind of drama. She had seen it over and over in the foster system.
"Shad! You know how much I like you! I think you're a great kid. You're funny and smart and extremely cute, too. And I like hanging out with you. Nothing is wrong with you except that you're fourteen, and I'm almost eighteen. I look like your big sister or something."
"I'll be fifteen in six months! Then I can get my learner's permit! I'll be able to take you on dates and stuff. The age difference won't matter when I'm twenty and you're twenty four! Or 26 and 30."
"Well, when I'm twenty-five and your twenty-one, we'll see how we feel, okay?"
"But I already know how I feel, Mags. I love you. I won't ever want anyone else," Shad retorted stubbornly.
"But I don't feel that way about you, Shad," Maggie spoke gently. "Come on! You have to admit, it would be kind of creepy if I did, don't you think?"
Shad stood up angrily, pushing her hand away when she reached out to him.
Download


Copyright Disclaimer:
This site does not store any files on its server. We only index and link to content provided by other sites. Please contact the content providers to delete copyright contents if any and email us, we'll remove relevant links or contents immediately.