Single and Forced to Mingle by Melissa Croce
Author:Melissa Croce , Date: February 24, 2021 ,Views: 46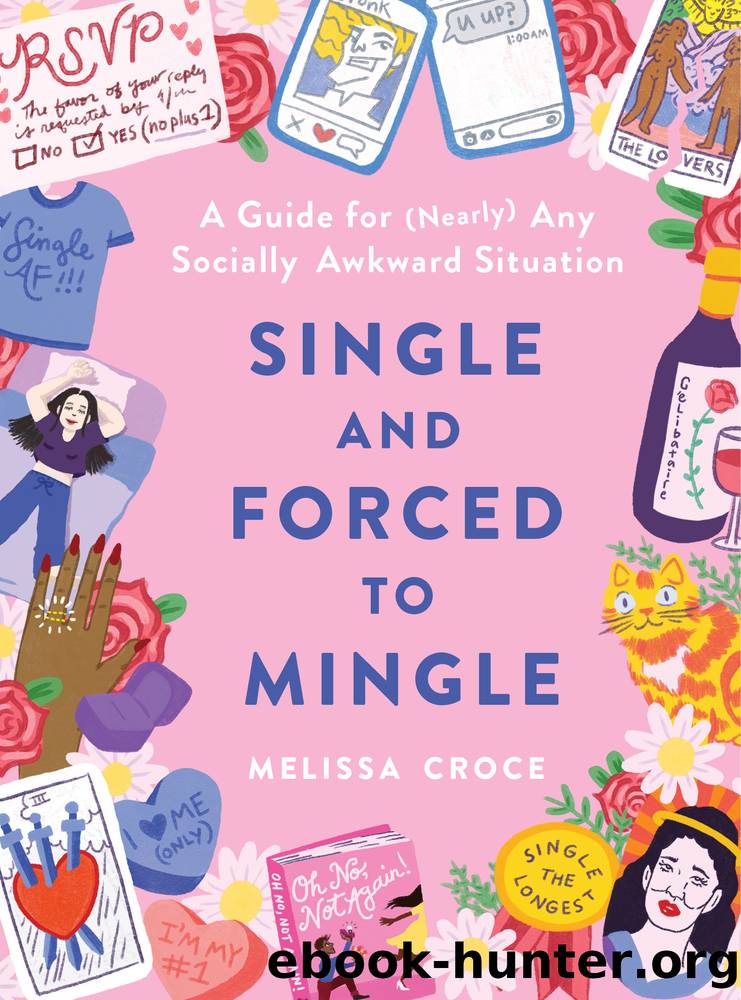 Author:Melissa Croce
Language: eng
Format: epub
Publisher: Atria Books
Published: 2021-01-05T00:00:00+00:00



VI. Let's Never Do This Again
There are times when you want to be sociable, and there are so many other times when you don't. There are some events that are tolerable, and some that are probably on par with the seventh circle of hell. Hopefully, the latter can either be a) avoided or b) infrequent, but if not, here are some ways to make them better.
REUNION DRINKING GAME
You're not quite sure how you ended up here, in a hotel ballroom/overpriced trendy bar/corner of your old cafeteria, at your high school reunion. Alone. You were adamant that you would never attend one of these unless you had a hot piece of arm candy. You swore that you would rather scoop out your own eyeballs with a grapefruit spoon than see these classmates again. And yet!!! Here you are, drinking a watered-down rum and Coke and wishing that you, too, to quote legendary icon Cher, could "turn back time" if only to stop yourself from giving in to your best friend who said that this would be so fun, Melissa, and remember those people from high school whose Instagrams we follow and thought that it would be fun to see again? Maybe they'll be there! Spoiler: You thought it would be fun while you were wine drunk, and they aren't here, and your BFF has ditched you to go make out with the boy-from-tenth-grade-English-who-got-away. Standing in a corner by yourself reminds you too much of homecoming dances of yore, so there's nothing to do but mingle with people who knew you at the most awkward period of both of your lives. At least make it interesting by indulging in a drinking game: as the night goes on, at least you'll have alcohol and increasing levels of intoxication to help endure the following remarks and events (take a drink at every one you come across):
"You haven't changed at all since high school!"/"You look so different!"
Your high school ex shows off their current significant other and you have no one to shove back in their face.
People tell you how old their kid is in months, even though "two and a half" would have been fine.
You are mistaken for a completely different person (who is also single).
You took one shot too many when you saw your old nemesis because you had no one to stop you.
Someone tells you a "remember when?" story you were not present for or don't remember.
You find out about a high school–era scandal you never knew about but have no one to share the hot gossip with.
Someone shows up wearing their old letterman jacket.
Finish your drink: Someone shows you a baby picture and the baby is not cute.
Someone brings up your embarrassing yearbook "most likely to."
Two people who used to date each other show up with SOs who also used to date each other.
Of the three Kelly/Kelley/Kellis you can't remember which is mean, which is boring, and which is sad, and who would be worse to endure for five minutes in the bathroom line.
Download


Copyright Disclaimer:
This site does not store any files on its server. We only index and link to content provided by other sites. Please contact the content providers to delete copyright contents if any and email us, we'll remove relevant links or contents immediately.