Remember Us by Martin Small
Author:Martin Small , Date: August 6, 2020 ,Views: 426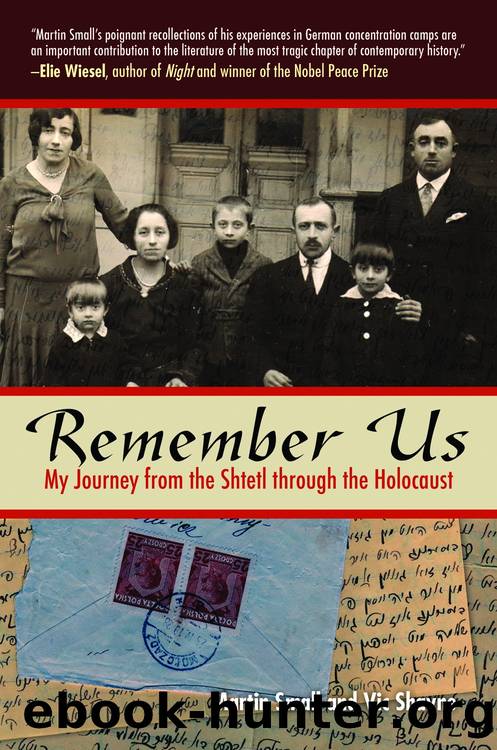 Author:Martin Small
Language: eng
Format: epub
Publisher: Skyhorse Publishing, Inc.
Published: 2011-01-23T16:00:00+00:00



More Aimless Wandering
The days and weeks after the escape from Koldichevo melded into one long struggle. Shmulek and I parted ways from the other escapees, banking on our own independence. One day, wandering the countryside in search of food and shelter, we came upon a small farm in the woods with a barn in the corner of the property. It was sometime toward the end of the day, beneath a drizzling sky, that we snuck up on the barn and let ourselves in. As the rain came down harder, we scratched around for a few minutes and found a couple of ears of corn lying near some hay. We drank out of a rain barrel outside, ate the corn, and rested against the wall of the barn. Soon we fell asleep to the monotonous beat of raindrops on the roof and a steady drip of water from a wooden beam overhead into a growing puddle.
In the morning Shmulek and I were awakened by the sound of someone rustling outside. There was no place to hide, so we braced ourselves when we heard footsteps shuffling toward the door. We tried to peer through gaps between the wooden planks of the barn wall, using hand signals to say that someone was about to enter the barn. We were ready to pounce with whatever strength we had left and we crouched behind the door. An older Polish woman dressed in a long skirt, black boots, and a ragged scarf swung open the rustic barn door and looked at us with hardly a surprise in her wrinkled face. Like two schoolboys, we stood before her, waiting to be reprimanded. But the woman didn't ask us who we were or where we had come from. I suppose she assumed we were Jewish runaways. But this did not matter to her. Instead, she saw in us a mutual benefit, told us to wait where we were and that she would bring food, which she did.
By late morning, after the farm woman fed us, Shmulek and I were put to work for her. We busied ourselves the rest of the day separating ears of corn from their stalks. For the next week or so, we worked hard in exchange for food and shelter. We regained a great deal of our strength and were breathing easier in this place miles from the nearest neighbor.We repaired equipment, fed the woman's pigs and chickens, slaughtered animals for food, collected eggs, and hauled in crops from the fields. Then one day, without notice, we were told to leave at once. A neighbor had come over to visit and asked who we were and how long we had been working on the woman's property. The lady tried to explain that we were relatives visiting and helping out, but the neighbor looked at her with too much suspicion. She knew now that it was too dangerous for her to have anything else to do with us.And we were on our way, carrying whatever food we could in our pockets.
Download


Copyright Disclaimer:
This site does not store any files on its server. We only index and link to content provided by other sites. Please contact the content providers to delete copyright contents if any and email us, we'll remove relevant links or contents immediately.