Relentless: A Memoir by Julian Edelman
Author:Julian Edelman [Edelman, Julian] , Date: December 15, 2017 ,Views: 1186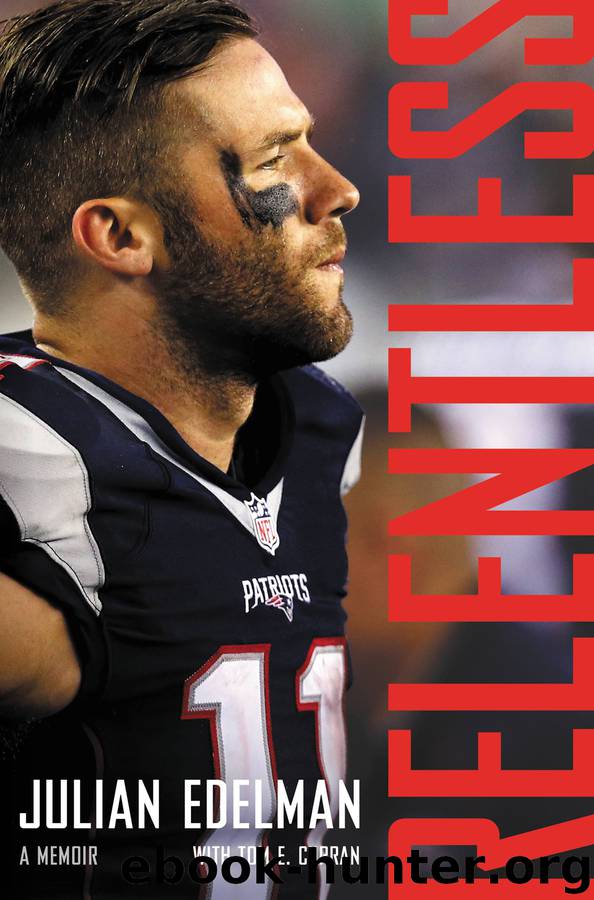 Author:Julian Edelman [Edelman, Julian]
Language: eng
Format: epub
Tags: biography
ISBN: 9780316479851
Google: 5O0vDwAAQBAJ
Amazon: 0316479853
Publisher: Hachette Books
Published: 2017-10-24T04:00:00+00:00



TWELVE
A CAREER CROSSROADS
I'm a person who thrives on structure and routine. I like to know where to be, when to be there, and what to do when I get there. I don't like uncertainty, and the early part of 2011 was full of it. The collective bargaining agreement between the NFL's owners and players expired March 11, and with no new agreement on the horizon the owners locked us out. That left us players to fend for ourselves, and it's probably not a coincidence that I wound up having my worst season in the NFL. I learned a lot about myself that year, and by the end, I realized I had some growing up to do or I'd be out of the league for good.
For the off-season, I went back to Southern California for the second straight year to train and be near Tom if he needed a throwing partner. This time, I lived in a condo on Driftwood Street in Marina del Rey with Lucas Yancey (the "Whaboom!" guy from the 2017 season of the Bachelorette, remember?) and four other buddies. I was twenty-five years old, living on the beach, hanging out in Venice, and trying to enjoy life, but there was uncertainty surrounding that off-season. For one thing, we were on our own for training, so I went to my main spot, API (now called EXOS) in Carson, California.
I also worked with Alex Guerrero that off-season. Alex is Tom's body coach and partner at TB12 Sports Therapy. His talent for helping athletes attain peak condition through massage, diet, pliability, supplementation, and hydration is legendary. I figured if it was good enough for Tom, it was definitely good enough for me, and Tom was with Alex 24/7.
I tripled my number of UCLA throwing sessions with Tom from the summer before, bringing me to a grand total of three. But I trained plenty at API, and that's where I first met Danny Amendola. Dola was with the Rams at the time and we competed during training. One day, we walked down the pier afterward, shot the shit, and learned we were in similar situations. He'd had a big year in 2010 with the Rams but was originally an undrafted guy out of Texas Tech who bounced around. We were both trying to stick in the league. We bonded a bit, rode skateboards, biked, and went out for beers after training.
The lockout didn't trip me out. I couldn't control it, so I focused on training and getting better. That off-season, I began watching film of receivers in similar situations to mine, like Victor Cruz from the Giants and the Steelers' Antonio Brown. Victor barely played in 2010, his rookie season, but I knew he was from the University of Massachusetts and had had a very good preseason before his rookie year. Same thing with Antonio. He was a rookie in 2010 who was a sixth-round choice from Central Michigan. I watched them to see what adjustments they were making to the league.
Download


Copyright Disclaimer:
This site does not store any files on its server. We only index and link to content provided by other sites. Please contact the content providers to delete copyright contents if any and email us, we'll remove relevant links or contents immediately.