Reborn on the Run by Catra Corbett
Author:Catra Corbett , Date: May 17, 2018 ,Views: 1505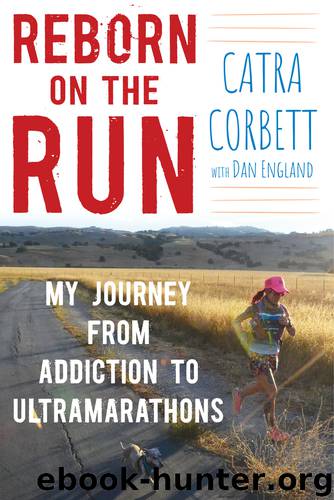 Author:Catra Corbett
Language: eng
Format: epub
ISBN: 9781510729032
Publisher: Skyhorse Publishing
Published: 2018-04-25T04:00:00+00:00



In the spring of 2002, I was still looking to work out of the pain I was feeling from my mother's death, and I had been through the emotional Western States race and was planning on running the Hardrock 100 in July. The course of the Hardrock winds through the beautiful San Juan Mountains in Colorado, which may be the hardest hundred-miler in the country. I was totally stoked about getting in, and I was training my ass off. In order to do that, I was running in Yosemite a lot.
Really, I was running off my grief, more than anything else, but I was also excited to run yet another amazing race.
I was crushed, then, when the Hardrock was canceled because of raging forest fires in southwestern Colorado. The year of 2002 had been a bone-dry one, and fires were catching all over the state. The governor made national headlines and earned the state's scorn when he said it seemed like "the whole state was on fire."
So since I was training so hard and spending so much time in Yosemite, I thought I would just run a hundred miles solo in Yosemite.
I invited some friends to join. My posse of course included Mike Palmer, my mentor, and a half-dozen others.
I started out solo at Yosemite Valley at 5 a.m. in July. I thought it was a going to be a hot day, but as we climbed higher, it stayed cool. I brought a light shell jacket because I thought it might rain. I met Mike near Tuolumne Meadows, an area with a campground one and a half hours by car away from Yosemite Valley. We had some massive climbs, but the group was strong. Everyone knew what it was like to suffer.
We could hear thunder off in the distance, and it got louder and louder, and then it started pouring on us and I started panicking. I had no clue what to do in a lightning storm.
"Mike, what are we supposed to do?" I screamed through the driving rain.
"I don't remember," Mike said.
The storm was suddenly right on top of us, which is sometimes what happens in the mountains. Storms aren't nearly as big of a deal in many areas of California where we ran, but in the mountains, they come fast, and they come hard; one bolt of lightning can kill you, especially above the tree line, when you're the tallest thing and almost asking for a quick strike.
Mike used to joke with me that he didn't want to be around me during a lightning storm because of all my piercings. He said that I would be a magnet for lightning bolts.
But with the bolts crashing all around us, I didn't know whether my piercings would attract lighting or not. Mike has a dry sense of humor, and he uses it frequently, but his jokes didn't seem funny any longer. Every flash of light from the sky made me scream.
We ducked into some trees, until we realized that those
Download


Copyright Disclaimer:
This site does not store any files on its server. We only index and link to content provided by other sites. Please contact the content providers to delete copyright contents if any and email us, we'll remove relevant links or contents immediately.