Raw Spirit by Iain Banks
Author:Iain Banks , Date: September 22, 2014 ,Views: 267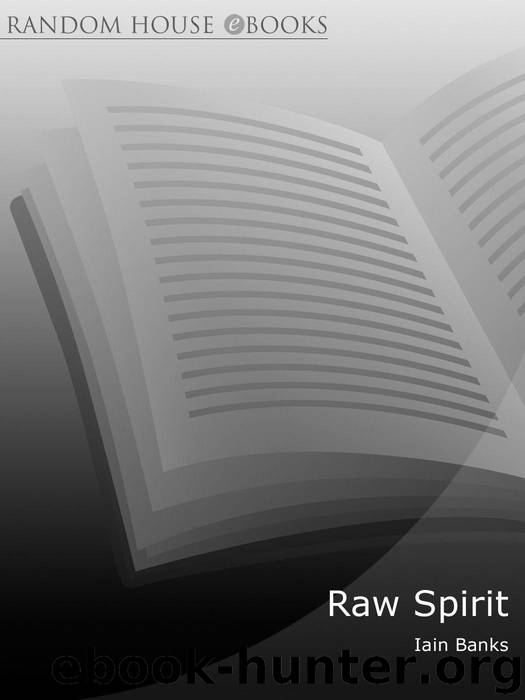 Author:Iain Banks
Language: eng
Format: mobi, azw3, epub
ISBN: 9781448183432
Publisher: Random House
Published: 2013-09-29T20:00:00+00:00



9: The Awemsys of Azshashoshz
SOMEHOW WE GET up to another great day – and more coffee and bacon rolls – at half-nine despite only getting to bed at five. I feel remarkably fine. We sit on the grass munching rolls, looking at the hills and distant mountains and trying to find a cloud anywhere in the sky.
'How's your head?' Dave asks.
'Better than it deserves to be.'
'I was thinking about the game after I went to bed last night.'
I look at him. 'You were?' I shake my head. 'You're taking this far too seriously.'
'I think the nine different boards is maybe a bit too complicated.'
'You will recall that Jim and I were both sceptical.'
'Yeah, but it was worth trying.'
'So, back to the single-board idea?'
Dave nods and draws on the first fag of the day. 'Maybe. With adjustments. Needs more work. I'd still like to try the nine-board idea with three players and simpler rules.'
'Really?' I stand up. 'I shall go and ring Mr Brown and inform him he is required immediately.'
Jim says the crisis is over, he's free to leave and he hopes to make it to Aviemore on the early afternoon train. We have a few problems with mobiles and staying in touch – though, standing by a roadside trying to electronically top-up my phone, I get to see the steam train on the Strathspey Railway chuff-chuffing past in the sunlight – but eventually we meet up in time for lunch. We bump into the couple my Mum and Dad bought their house off, who retired nearby. Small country.
We return to the Glenlivet Lodges via Dulnain Bridge, trying to see a red squirrel (Les, Aileen and I saw one the week before). No luck on the squirrel front; we repair to Dufftown to check out the local bars for Sky reception because there's some football game on this evening which might be worth watching (I have no real interest in football, being a Greenock Morton supporter, so I can't remember which game this might have been). Dufftown rather lives up to its name; nothing much going on, shops very quiet and bars which don't seem all that friendly – there's some muttering in one that another bar does have Sky but hasn't paid the appropriate fee for letting the public watch.
Maybe we were just unlucky. And to be fair, the lassie at the town's slightly antique petrol station, with whom we established a close relationship over the week due to the fact the Jag combines the thirst of an elephant with the fuel-carrying capacity of a gnat, seemed very nice.
We decide it's a bit warm for trudging round distilleries and so head back to the Lodges to play pool, lounge in the sun, test out Dave's simplified game (still confusing), play Grass (it's a card game), drink and smoke.
Download


Copyright Disclaimer:
This site does not store any files on its server. We only index and link to content provided by other sites. Please contact the content providers to delete copyright contents if any and email us, we'll remove relevant links or contents immediately.