Played by Unknown
Author:Unknown , Date: August 3, 2020 ,Views: 379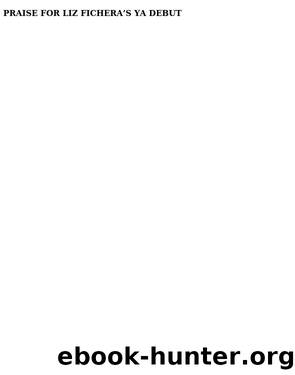 Author:Unknown
Language: eng
Format: epub
Published: 2014-02-19T20:20:28+00:00



180
LIZ FICHERA
"Slowly. But surely."
"What if Ryan sees Fred with Sam and gets jealous or
something?"
"That could be bad." Really horribly tragically bad, but, oh, so good for Sam. My vodka lips sputtered. "Do me a huge favor?"
"Anything."
"If my brother shows up, keep him occupied? Any way
you can. This could be your chance, too—you know, with
getting my brother." I shouldn't have said that but it was too late to take it back.
Drew looked like she could bust out of the car. "Abso-
lutely."
"He was asking about you today," I blurted. I knew that
was a lie, too, even as I said it but I was on a roll.
She grabbed my arm. "Ryan?" Her eyes widened another
notch. "What'd he say? Tell me! Don't leave out a single
word."
I cleared my throat. "He just asked what you were doing
tonight." In truth, he asked what we were doing so it wasn't like a complete and total lie. Only a little selective pronoun placement.
She squeezed my arm. "And what'd you say?"
"I may have said we'd be here." That was another white
lie. Ryan didn't know I was invited. If I'd told him I was, he would have told Mom, and then Mom would have insisted
on picking me up from the party and there was no way I
could survive the humiliation of that. Your parents waiting
to pick you up outside a cool party? I think not. What I did
tell my brother was that I was spending the night at Drew's.
That was all.
Drew's expression was hopeful. "Oh, my god. I totally
hope he's here already."
I smiled at her. I really needed her to shower Ryan with at-
9780373210947_TS_txt.indd 180
2014-03-12 3:01 PM
played
181
tention, especially when Sam showed up with Fred. In Drew's
defense, my brother did like her. He thought she was really
sweet. But he thought kittens and rabbits were sweet, too.
That Drew was my best friend did not work in her favor. I
didn't have the heart to tell her all that. But, who knew what could happen when you threw people together. People could
surprise you.
"Let's go!"
My head was buzzing with excitement and alcohol as we
walked across the driveway to the front door. I recognized
guys from the varsity football team, a few girls from the junior cheer squad, even a senior girl from dance club, who nodded
at me with approval as we passed through the front door. I
tried to look disinterested, like I frequented these parties all the time, but my cheeks tightened from holding back a huge
smile. Plus I was biting down on the inside of my cheek.
Inside, the house was crawling with kids from school. If I
didn't know their names, I most definitely knew their faces.
And they weren't the faces I was used to seeing, either.
Music blasted through speakers in every corner of the
room. The ear-bleeding levels only added to the excitement.
From the looks of the place, I wasn't the only person pumped
to be at the party. Drew dropped my arm and wove her way
directly to the counter, leaving me at the edge of the room.
I bumped someone's shoulder everywhere I turned but no
one cared. I smiled to a few of them and head nodded to the
music.
Download


Copyright Disclaimer:
This site does not store any files on its server. We only index and link to content provided by other sites. Please contact the content providers to delete copyright contents if any and email us, we'll remove relevant links or contents immediately.