Max (A Carter Brother series Book 4) by Lisa Helen Gray
Author:Lisa Helen Gray [Gray, Lisa Helen] , Date: May 29, 2016 ,Views: 1872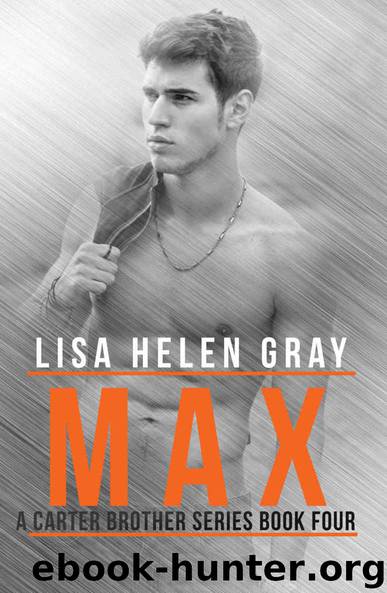 Author:Lisa Helen Gray [Gray, Lisa Helen]
Language: eng
Format: epub
Published: 2016-05-27T22:00:00+00:00



CHAPTER EIGHTEEN
MAX
The walk to Snoops is taking us forever. Thankfully, the walk has sobered Adam up a bit. The rest of us, however, are pissed as fuck, staggering along the pavement.
"I'm surprised Max hasn't brought his own music along with him,'' Mason grunts, smirking.
"Fuck off, dickhead.''
"Why would he bring his own music?'' Lee asks amused.
"No reason,'' I snap, not wanting to get into this. The way they've picked on me tonight you'd think it was my fucking stag do.
"He's not into the whole RnB shit. He's more into Disney, Taylor Swift and all that bollox,'' Mason laughs, punching my arm playfully.
"Seriously? Assault,'' I warn, my eyes snapping to my arm. He just chuckles, ignoring my pain.
"No way?'' Lee and Adam laugh.
"Hysterical,'' I snap dryly. "Oh, look, Snoops.''
"Sing the way for us,'' Lee adds.
"Nope.''
"Come on,'' Maverick urges, grinning at me like a drunken fool.
"Can we go drink like men, please,'' I tell them. "I'm beginning to wonder why we're even out. If you all wanted a pamper party I'm sure the girls would have loved to have organised you one.''
"Aww, come on, bro, show us what you're made of,'' Myles teases.
"Sugar and spice and all things nice,'' I wink.
"Spoil sport,'' Mason laughs.
"Don't forget you've still got one task to complete before we can meet up with the girls,'' I add, making Mason lose the grin.
"Fuck!''
I laugh, giving him a punch in the same place he gave me mine. It's Malik's task next. This fucker had help from Harlow, though. She let it slip one night when she told us she already knew what Malik had planned 'cause she helped plan it. We all let him have it, though, all of us ripping him a new asshole. None of us consulted with outsiders or the hen party so it felt like he let the team down when he went running to his girlfriend.
"Hit me,'' Mason says, motioning his hands towards himself.
Punching him in the arm again, I get a grunt of pain from him. I grin; pleased with myself.
"What the fuck was that for?'' he shouts as we stand outside Snoops.
"You told me to hit you,'' I tell him slowly, wondering if I hit him too hard the first time. I roll my eyes at him and move away slowly.
"I meant hit me with the next task, asshole,'' he growls, raising his fist.
"I've got ChildLine's number on speed dial,'' I shout, moving away quickly. The guys laugh, shaking their heads, but Mason just rolls his eyes before turning to Malik.
"Come on then. What bright idea did you come up with?''
"Now, don't go giving him the credit,'' I start, but a slap around the head from Maverick shuts me up. "Shit. I'm seriously hoping ChildLine is twenty-four hour,'' I groan, rubbing my sore head.
"Basically, when I shout 'selfie' you have to take a selfie with the person to your right. Doesn't matter who is there. You have to do it,'' Malik grunts, smirking.
"Seriously?'' Mason laughs. "That's not as bad as the 'ant' game.''
We
Download


Copyright Disclaimer:
This site does not store any files on its server. We only index and link to content provided by other sites. Please contact the content providers to delete copyright contents if any and email us, we'll remove relevant links or contents immediately.