Mary Slessor: Forward Into Calabar by Janet Benge & Geoff Benge
Author:Janet Benge & Geoff Benge [Benge, Janet & Benge, Geoff] , Date: June 3, 2020 ,Views: 35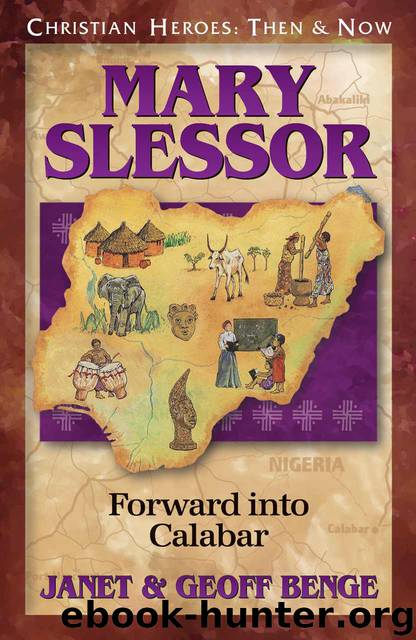 Author:Janet Benge & Geoff Benge [Benge, Janet & Benge, Geoff]
Language: eng
Format: epub
Tags: Biography & Autobiography, Religious, Juvenile Nonfiction
ISBN: 9781576581483
Google: qBgJAAAACAAJ
Amazon: 1576581489
Barnesnoble: 1576581489
Goodreads: 1004634
Publisher: YWAM Publishing
Published: 1999-06-01T11:42:24+00:00



Chapter 10
Janie
The local women wailed loudly and reached out to touch Mary as she was carried down to the canoe. It was March 1883, and Mary had become sick, too sick to medicate herself and wait for the illness to pass. To recover this time she needed to be in Duke Town, where she could get proper medical care.
Within the past month, two missionaries had died in Calabar. One of them was Samuel Edgerley, one of Mary's good friends. Samuel had gone to explore farther up the Calabar River. He had managed to get to Atam, 160 miles inland. On the way back, he had become ill and had to stop and rest in a village. Alas, the hammock he was sleeping in snapped in the night, dumping him onto the floor, where he hurt his back. Samuel's crew, not knowing what else to do, loaded him into the canoe and paddled all the way back to Duke Town. Samuel Edgerley died soon after arriving back and before he was able to tell anyone about what he had seen so far upriver.
Soon after this, Dr. McKenzie fell ill and died. He had been sick on and off for about a year, often needing to be carried to a patient's bedside so that he could diagnose the patient's condition and prescribe medicine.
Mary felt herself being laid gently into the bottom of the canoe ready for the trip downriver to Duke Town. She had already made arrangements as to what should happen to the children if she did not return—that is, all except for one child. Two weeks before, Mary had raced through the jungle in the middle of the night hoping to reach a pair of twins before they were killed. A woman from a neighboring village had risked her life to inform Mary of their birth. Mary arrived just as a hole was being cut in the back of the hut to pass the twins out. Since the villagers believed it meant extra bad luck to carry a twin baby out through the door of a hut, a special exit hole had been cut and then was mudded over later. The twins were still alive, and Mary raced into the hut, yelling wildly. She grabbed the two babies and ran back into the jungle, leaving behind a startled group of relatives who had come to witness the killing of the twins.
The relatives did not follow Mary back along the trail to Old Town. It was too dangerous to travel through the jungle in the dark of night. Mary, though, didn't care; she had the two babies tucked safely under her arms, and she prayed aloud and recited psalms as she ran. When she got back to her hut in Old Town, she lit a reed lamp and examined the twins—a boy and a girl—both small but healthy as far as she could tell. She ground up some plantains and mixed them with boiled water to feed the babies. Then she wrapped the babies up together and put them beside her in bed.
Download


Copyright Disclaimer:
This site does not store any files on its server. We only index and link to content provided by other sites. Please contact the content providers to delete copyright contents if any and email us, we'll remove relevant links or contents immediately.