Maps In A Mirror by Orson Scott Card
Author:Orson Scott Card [Card, Orson Scott] , Date: March 27, 2014 ,Views: 3200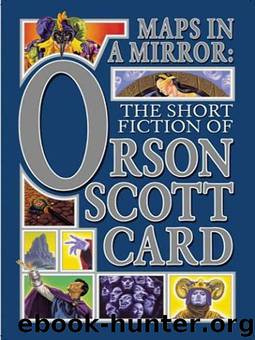 Author:Orson Scott Card [Card, Orson Scott]
Format: epub, mobi
Tags: Science Fiction/Fantasy
ISBN: 9780765308405
Publisher: Tom Doherty Associates
Published: 2010-01-21T16:03:55+00:00



Bork lived all the rest of his life on his little plot of ground. People did come to him. Not many, but five or ten a year all his life, and a village grew up where no one came to take a king's tithe or a duke's fifth or a count's fourth. Children grew up who knew nothing of the art of war and never saw a knight or a battle or the terrible fear on the face of a man who knows his wounds are too deep to heal. It was everything Bork could have wanted, and he was happy all his years there.
Winkle, too, achieved everything he wanted. He married Brunhilda, and soon enough the King's sons had accidents and died, and the King died after dinner one night, and Winkle became King. He was at war all his life, and never went to sleep at night without fear of an assassin coming upon him in the darkness. He governed ruthlessly and thoroughly and was hated all his life; later generations, however, remembered him as a great King. But he was dead then, and didn't know it.
Later generations never heard of Bork.
He had only been out on his little plot of ground for a few months when the old wife came to him. "Your hut is much bigger than you need," she said. "Move over."
So Bork moved over, and she moved in.
She did not magically turn into a beautiful princess. She was foul-mouthed and nagged Bork unmercifully. But he was devoted to her, and when she died a few years later he realized that she had given him more happiness than pain, and he missed her. But the grief at her dying did not taint any of the joys of his memory of her; he just fingered the diamonds, and remembered that grief and joy were not weighed in the same scale, one making the other seem less substantial.
And at last he realized that Death was near; that Death was reaping him like wheat, eating him like bread. He imagined Death to be a dragon, devouring him bit by bit, and one night in a dream he asked Death, "Is my flavor sweet?"
Death, the old dragon, looked at him with bright and understanding eyes, and said, "Salty and sour, bitter and sweet. You sting and you soothe."
"Ah," Bork said, and was satisfied.
Death poised itself to take the last bite. "Thank you," it said.
"You're welcome," Bork answered, and he meant it.
Download


Copyright Disclaimer:
This site does not store any files on its server. We only index and link to content provided by other sites. Please contact the content providers to delete copyright contents if any and email us, we'll remove relevant links or contents immediately.