Let's Go Europe 2015 by Harvard Student Agencies Inc
Author:Harvard Student Agencies, Inc. [ Harvard Student Agencies, Inc] , Date: July 4, 2016 ,Views: 526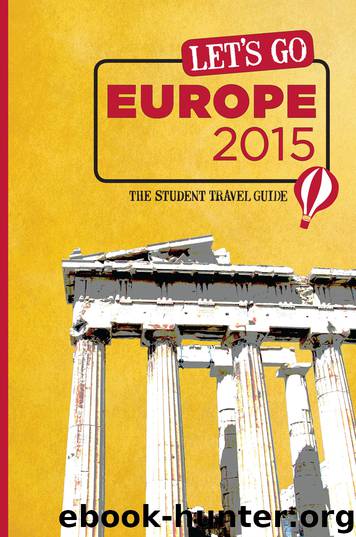 Author:Harvard Student Agencies, Inc. [ Harvard Student Agencies, Inc]
Language: eng
Format: epub
ISBN: 9781612370460
Publisher: Let's Go, Inc



Getting there is easy enough; the 49, 49A, 54A, and 123 buses will all take you by Christ Church Cathedral, which is directly adjacent to Dublinia. You can also walk easily; if you're coming from Trinity College, just walk down Dame Street until you get to the cathedral.
£8.50. Students/seniors £7.50. Children £6.50. Open daily 10am-6:30pm; last entry 5:30pm.
GUINNESS STOREHOUSE
STOREHOUSE
St. James's Gate, Dublin 8 1 408 4800
www.guinness-storehouse.com
So you've been to St. Patrick's Cathedral, you've been to St. Michan's Church, you've been to Christ Church Cathedral, and you figure you've seen Dublin's main religious structures. Not quite. You're still missing the basilica of beer, the holy place of hops, the altar of alcohol: the Guinness Storehouse. Make no mistake—this is not so much an educational attraction as it is a shrine to the acclaimed stout. Thankfully, there are no virgin sacrifices—just an admission fee.
Dubious? Consider the wall text in one room: "Centuries ago, many people were convinced that somehow, lead could be transformed into gold. In a way, Arthur Guinness was such a man. But where others failed, he succeeded." Consider the monolithic sculpture of a Guinness pint on one floor. Consider the fact that this bizarre museum is housed in a seven-story reproduction of a Guinness glass (the website proudly notes that it could hold a whopping 14.3 million pints, which would probably put you over the legal limit). By the time you finish the tour, you half expect the bathroom faucets to spout Guinness.
Getting there is pretty easy, especially considering its location in another dimension. Just walk west past Christ Church Cathedral, onto Cornmarket and onto Thomas Street. Hang a left on Crane Street and you'll start seeing signs. You're in Guinness territory now (you already were, but now you're in the inner sanctum). Admission may seem a bit steep, but it's fairly reasonable if you factor in the complimentary pint you get at the end. You may not go home ready to spread the gospel of Guinness, but the Storehouse will certainly convince you that it's a damn good drink.
£16.50 for adults, £13 for students and seniors, £6.50 for children (who presumably aren't enjoying the complimentary pint). Open daily 9:30am-5pm. Open until 7pm in Jul and Aug.
KILMAINHAM GAOL
PRISON
Inchicore Road, Kilmainham, Dublin 8
1 453 2037
www.heritageireland.ie
Yes, we know that "jail" is spelled oddly in Ireland, and we know that the last thing you want to do on vacation is go to prison. But that doesn't change the fact that Kilmainham Gaol is one of the most electrifying attractions in Dublin—and don't worry, that's not an electric chair joke. Most of the executions here were carried out by hanging.
Indeed, Kilmainham Gaol is most famous for having housed many famous Irish revolutionaries—many of the central figures in the 1916 Easter Rising were taken here and killed. You'll see where political figures like Eamon de Valera were imprisoned by the British government. Many places in Dublin commemorate these figures (see: Garden of Remembrance, the National Library, the Collins Barracks) but this is your opportunity to get really close to them (unless you do some gravedigging in Glasnevin Cemetery).
Download


Copyright Disclaimer:
This site does not store any files on its server. We only index and link to content provided by other sites. Please contact the content providers to delete copyright contents if any and email us, we'll remove relevant links or contents immediately.