Legal Privilege by Margaret Barnes
Author:Margaret Barnes [Barnes, Margaret] , Date: May 5, 2021 ,Views: 33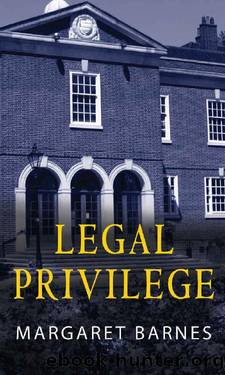 Author:Margaret Barnes [Barnes, Margaret]
Language: eng
Format: epub
Publisher: Scribbling Advocate
Published: 2021-05-02T23:00:00+00:00



Chapter 21
Eric Poynton left the witness box and hurried from the courtroom. When the door had closed behind him, the judge asked Marcus if he was calling his client's father.
'Not today, My Lady.'
'I assume not at all then. Are you going to call your client, Mr Jennings?'
Cassie put her hand over her mouth to ensure she wasn't heard by anyone else and said to Simon Wade, 'Now the jury will wonder why the father isn't being called.'
Simon nodded in agreement.
'No, My Lady,' David Jennings said.
'Have you advised him that the stage has now been reached at which he may give evidence and, if he chooses not to do so or, having been sworn without good cause refuses to answer any question, the jury may draw such inferences as appear proper from his failure to do so?'
'I have.'
'Right.' Judge Rostron-Smith's face betrayed her incredulity at Cravitz's refusal to give evidence. Cassie had noticed Cravitz had hardly spoken to Radpole while the trial had been ongoing; was his failure to give evidence because he was frightened of his co-defendant rather than following any legal advice? She'd ask David when she got the opportunity.
'Now, Mr Wade, your client?'
'I'll call Mr Morris, My Lady.'
Dean Morris scurried into the witness box. He grabbed the bible and the card with the oath on it and then stumbled over the words.
'Take your time, Mr Morris,' Simon Wade said.
The court usher took the card from Morris and he repeated the oath after her.
'Now, Mr Morris, I'm going to be asking you questions but do give your answers to the jury, so speak up.'
Dean Morris nodded and Simon Wade began by asking him how he knew Lucas Radpole and Thom Cravitz.
'I know Lucas from down the gym. Thom is a mate of his. Seen 'em together.'
'Theo Clements, do you know him?'
'Never seen him before this case, but I was at school with Annie – his girlfriend.'
'When was that?'
'Junior school. Over fifteen years ago.'
'On fifteenth January did you go to the flat on Fulham Road?'
Morris looked towards the dock. 'Not sure of the date, but I did go to the man's flat.'
'Why did you go there?'
Dean Morris explained he had been told by Lucas that the man who lived there had property that belonged to his father.
'Did you know what he meant by property?'
'He said something hadn't been paid for. I thought he was owed money. Assumed for drugs.'
'Why drugs?'
Morris shuffled from one foot to the other. 'Lucas, sometimes, I've had … I've smoked with him.'
'Smoked drugs?'
'Cannabis, yes. Nothing else. I don't since I took up boxing.'
'Was anything said about a painting?'
Cassie noticed Morris looked towards the dock before answering. 'I don't think so … I don't remember that.'
'How many times have you been to that flat?'
'One, just the one.'
'How did you know to go there and meet the others?'
'I had a phone call from Lucas and then Thom.'
'Just the one call?'
'Several. Change of time. Where to meet. Lucas – he couldn't find somewhere to park.'
'How did you get into the property?'
'Lucas smashed the door open.
Download


Copyright Disclaimer:
This site does not store any files on its server. We only index and link to content provided by other sites. Please contact the content providers to delete copyright contents if any and email us, we'll remove relevant links or contents immediately.