Ladies Can't Climb Ladders by Jane Robinson
Author:Jane Robinson [Robinson, Jane] , Date: July 1, 2020 ,Views: 29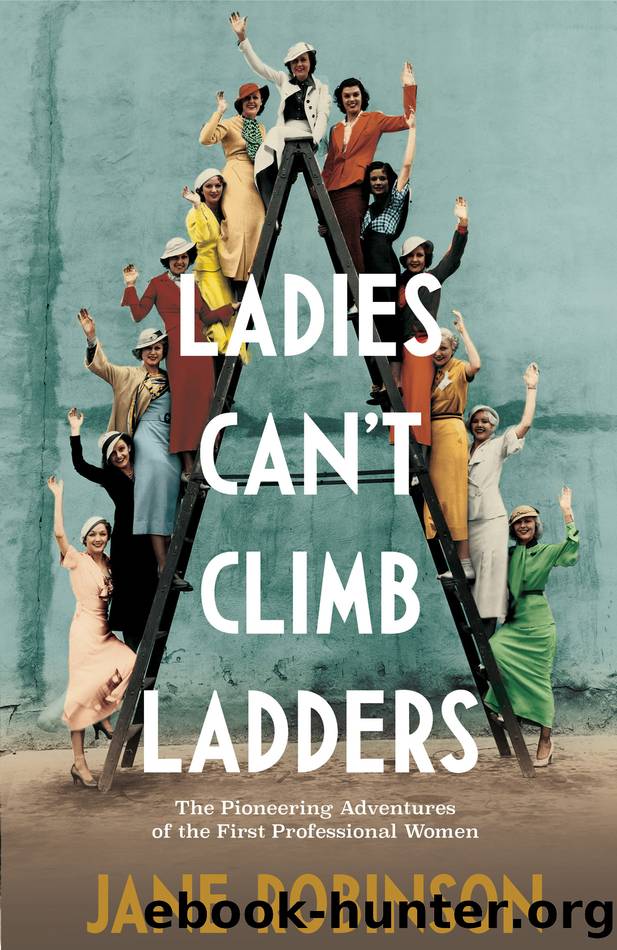 Author:Jane Robinson [Robinson, Jane]
Language: eng
Format: epub
ISBN: 9781473559608
Publisher: Transworld
Published: 2020-01-23T00:00:00+00:00



This was a little disingenuous of Lang; 'universally admitted' it was not – but sometimes saying it makes it so. Thinking positive was another strategy for success recommended by the successful. And taking inspiration from others who have quietly triumphed against the odds, like the political campaigner Una Marson (1905–65), who travelled from her native Jamaica to England for a 'long holiday' in 1932 and ended up speaking at the International Alliance of Women for Suffrage in Istanbul three years later. The Manchester Guardian patronizingly described her obvious intellect as astonishing. She was able to afford the trip to London because of the success of a play she had written; once there she became involved with the League of Coloured Peoples, members of which gave the first performance in Britain of a play – her play – with an all-black cast. Una went on to act as Haile Selassie's secretary at the League of Nations and to be the first Afro-Caribbean woman to work for the BBC.
The League of Coloured Peoples' librarian, incidentally, was another role model: Yoruba Nigerian Stella Thomas (1906–74) who in 1933 was the first west African woman called to the English Bar. Born in Lagos and schooled in Sierra Leone, she fought family expectation for the right to higher education. Fortunately she was supported by an enlightened father, who had the means to send her to Britain in 1926. Three years later she was admitted to Middle Temple. Following qualification, she courageously used her oratorical skills to campaign publicly against colonial oppression, before returning to Africa in 1935 to practise in Sierra Leone and Nigeria. At home she was awarded the title 'Ogboni Agba' – esteemed elder – in recognition of her activism and wisdom: while Britain might have been suspicious of her, Nigeria was proud.
Neither Stella Thomas nor Una Marson wasted her talent by submitting to the status quo. Vera Brittain once wrote that it was as outrageous for an ambitious and intelligent woman to be condemned to washing dishes, knitting woollies and making blancmange as it was for a brilliant male playwright – say – to be kept at home to darn stockings.26 That's all very well, but if society and your family expected you to spend your days surrounded by dirty dishes and woollies and blancmange – and holey stockings – you had several battles to fight before you even reached this 'fair field' with 'no favour' the legislators liked to talk about. 'In the end,' sighed Winifred Holtby, 'what matters is an attitude of mind.'27 Not just your attitude, as someone desperate to climb ladders, but the attitude of those who would rather reserve the ladder for their own exclusive use.
I mentioned families – and would like to close this chapter about prejudice and expectation on a positive note. Although it is true that women were more likely than their male colleagues to be retrieved from a promising career for domestic reasons, home support could be one of the most energizing things about a working woman's life.
Download


Copyright Disclaimer:
This site does not store any files on its server. We only index and link to content provided by other sites. Please contact the content providers to delete copyright contents if any and email us, we'll remove relevant links or contents immediately.