John Carter 3 - The Warlord of Mars by Edgar Rice Burroughs
Author:Edgar Rice Burroughs , Date: December 18, 2017 ,Views: 997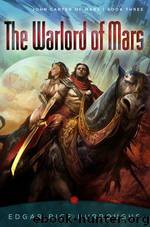 Author:Edgar Rice Burroughs
Language: eng
Format: mobi
Tags: Science fiction, Dejah Thoris (Fictitious character) -- Fiction, Mars (Planet) -- Fiction
Published: 1993-05-31T17:00:00+00:00



WITH THE YELLOW MEN
Thuvan Dihn was not long in joining me; and, though we found the hooked weapon a strange and savage thing with which to deal, the three of us soon despatched the five black-bearded warriors who opposed us.
When the battle was over our new acquaintance turned to me, and removing the shield from his wrist, held it out. I did not know the significance of his act, but judged that it was but a form of expressing his gratitude to me.
I afterward learned that it symbolized the offering of a man's life in return for some great favor done him; and my act of refusing, which I had immediately done, was what was expected of me.
"Then accept from Talu, Prince of Marentina," said the yellow man, "this token of my gratitude," and reaching beneath one of his wide sleeves he withdrew a bracelet and placed it upon my arm. He then went through the same ceremony with Thuvan Dihn.
Next he asked our names, and from what land we hailed. He seemed quite familiar with the geography of the outerworld, and when I said I was from Helium he raised his brows.
"Ah," he said, "you seek your ruler and his company?"
"Know you of them?" I asked.
"But little more than that they were captured by my uncle, Salensus Oll, Jeddak of Jeddaks, Ruler of Okar, land of the yellow men of Barsoom. As to their fate I know nothing, for I am at war with my uncle, who would crush my power in the principality of Marentina.
"These from whom you have just saved me are warriors he has sent out to find and slay me, for they know that often I come alone to hunt and kill the sacred apt which Salensus Oll so much reveres. It is partly because I hate his religion that Salensus Oll hates me; but mostly does he fear my growing power and the great faction which has arisen throughout Okar that would be glad to see me ruler of Okar and Jeddak of Jeddaks in his place.
"He is a cruel and tyrannous master whom all hate, and were it not for the great fear they have of him I could raise an army overnight that would wipe out the few that might remain loyal to him. My own people are faithful to me, and the little valley of Marentina has paid no tribute to the court of Salensus Oll for a year.
"Nor can he force us, for a dozen men may hold the narrow way to Marentina against a million. But now, as to thine own affairs. How may I aid you? My palace is at your disposal, if you wish to honor me by coming to Marentina."
"When our work is done we shall be glad to accept your invitation," I replied. "But now you can assist us most by directing us to the court of Salensus Oll, and suggesting some means by which we may gain admission to the city and the palace, or whatever other place we find our friends to be confined.
Download


Copyright Disclaimer:
This site does not store any files on its server. We only index and link to content provided by other sites. Please contact the content providers to delete copyright contents if any and email us, we'll remove relevant links or contents immediately.