Is This Bottle Corked?: The Secret Life of Wine by Kathleen Burk; Michael Bywater
Author:Kathleen Burk; Michael Bywater , Date: March 25, 2014 ,Views: 240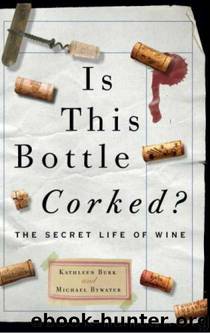 Author:Kathleen Burk; Michael Bywater
Language: eng
Format: mobi, azw3
Tags: Beverages, Miscellanea, Cooking, General, Wine and wine making, Wine & Spirits
ISBN: 9780307462916
Publisher: Crown Publishing Group
Published: 2009-09-07T10:00:00+00:00



What was a "comet wine"?
DID YOU EVER briefly wonder what was meant (in "The Stockbroker's Clerk") when Dr. Watson says, "Sherlock Holmes cocked his eye at me, leaning back on the cushions with a pleased and yet critical face, like a connoisseur who had just taken his first sip of a comet vintage"? In the nineteenth century, French wine-makers believed that comets were hot objects, and that this heat produced particularly good grapes. Therefore, they claimed, years when comets appeared were great vintage years. This conviction apparently began with the appearance of Flaugergues's Comet in 1811, which happened to coincide with a hot, dry summer. According to Michael Broadbent in his Vintage Wine, this "comet vintage" was possibly the greatest vintage of the nineteenth century throughout the European wine regions.
During the nineteenth century, the night skies appear to have been littered with comets, with at least three dozen of them making an appearance. The question was, did great vintages coincide with the appearance of comets? If one compares Broadbent's listing of outstanding wines of Bordeaux during this period, the answer is yes: 1811, 1825, 1844, 1846, 1847, 1848, 1858, 1864, 1865, 1870, 1875, and 1899. However, it is immediately noticeable that this is only a dozen years, and they do not include, for example, 1835, when Halley's Comet made its periodic appearance, nor the years of the Great Comets of 1843, 1861, and 1882. However, with nearly every decade combining at least one great vintage with a comet, it is clear why the French wine brokers latched on to a great marketing opportunity, with advertisements in newspapers and entries in cata logues listing comet vintages: it was a claim that the wine-drinking public was apparently willing to believe.
Download


Copyright Disclaimer:
This site does not store any files on its server. We only index and link to content provided by other sites. Please contact the content providers to delete copyright contents if any and email us, we'll remove relevant links or contents immediately.