Incredible Golf Stories by Julie Ganz
Author:Julie Ganz , Date: July 11, 2020 ,Views: 201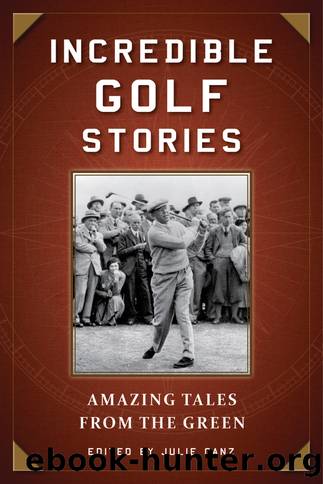 Author:Julie Ganz
Language: eng
Format: epub
Publisher: Skyhorse
Published: 2016-07-14T16:00:00+00:00



CHAPTER 14
PLAYING PINE VALLEY—AN OUT-OF-BODY EXPERIENCE
JOHN SABINO
A dear friend who shot 78 the first time he played Royal Melbourne's West course gave me a wooden board that lists top golf courses. I hung the board in my office at work and it was a natural conversation piece. It completely changes the dynamic of having to be a golf whore. People look at it and ask what it is; most think it's neat and scan down the list of courses. Typically, they will say, "Oh, I know a member at Oakland Hills, I should introduce you." My experience is you do not have to ask with the peg board up, people volunteer to help. The boards are sold through Golf Links to the Past, located in Pebble Beach, and are available for sale on their website.
One of the ultimate coups in my quest was the way I played the number one ranked course in the world, which I am fortunate to live an hour from. One day I was sitting in my office and a colleague came in and we started talking. He had been in my office countless times before and had seen my peg board but never said anything. In an utter act of goodwill and kindness, he said out of the blue, "Hey John, we should go out and play Pine Valley; are you interested?" I didn't even know he was a member.
I was speechless for a good thirty seconds as it registered. When I told him yes, he said, "Great, how does Sunday look?" Putting aside that I would have to skip going to church, my son's soccer game, and my wedding anniversary (just kidding on the last point, but that would be a tough call), I said, "Sunday looks open," to which he replied, "As long as the weather holds up, let's do it." For the next five days I checked the weather online every half hour. One of my friends who was jealous I was playing was hoping there would be a nor'easter on the appointed day, but the weather was ideal—a crisp fall day with a temperature of seventy-three degrees and low humidity. The Weather Channel's "golf index" indicator tells the whole story, it was: "10 out of 10 (Excellent)."
Download


Copyright Disclaimer:
This site does not store any files on its server. We only index and link to content provided by other sites. Please contact the content providers to delete copyright contents if any and email us, we'll remove relevant links or contents immediately.