Endure by Alex Hutchinson
Author:Alex Hutchinson , Date: March 16, 2018 ,Views: 1364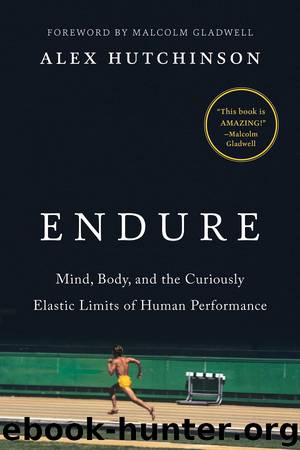 Author:Alex Hutchinson
Language: eng
Format: epub, mobi
Publisher: HarperCollins
Published: 2018-02-06T05:00:00+00:00



Some of the most vivid cautionary tales about dehydration focus on Alberto Salazar, the irascible 1980s marathon star who now coaches an exclusive (and, due to recent accusations of unethical supplement and prescription-medicine use, controversial) squad of some of the world's best runners at Nike headquarters in Oregon.14 Salazar was famous for his unyielding racing style and his appetite for suffering. As a nineteen-year-old in 1978, he returned home to the Boston suburb of Wayland, Massachusetts, for the summer after a disappointing sixth-place finish at the NCAA championships ended his sophomore track season at the University of Oregon. He made a sign to post on his bedroom wall, scrawled in felt-tip pen on a giant piece of poster board, that he stared at daily: "You will never be broken again."15
At the end of that summer, Salazar put this credo into practice at the seven-mile Falmouth Road Race, on Cape Cod, where he lined up against some of the best runners in the world: Bill Rodgers, Craig Virgin, Rudy Chapa. At the four-mile mark, he tried to take the lead. "That's the last thing I remember about the race," Salazar later recalled in his memoir, 14 Minutes. Witnesses said he stopped, turned around in a circle, then kept running to the finish, where he finished tenth. His next memory is of hearing a series of numbers: "104 . . . 106 . . . 107 . . . it's not going down! I think we're going to lose him!" It was his body temperature: he was submerged in a tub of ice water in the medical tent, suffering from heatstroke, and his life hung in the balance. He was soon rushed to the hospital, where a priest read him his last rites. After an hour, his temperature dropped and he made a full recovery—and if anything, he gained confidence from this seeming confirmation of his toughness.
Four years later, Salazar was the world's preeminent distance runner. He had won the New York Marathon in 1980, while still a student at Oregon, and returned the following year to set a world record of 2:08:13 (though the record was subsequently disallowed due to a course measurement issue). His most famous race, though, remains the 1982 Boston Marathon, a head-to-head battle with upstart rival Dick Beardsley remembered by running fans as the "Duel in the Sun." Boston's noon start meant that the runners faced temperatures in the mid-60s under a cloudless sky, and Salazar drank nearly nothing: perhaps two cups of water in total, just as he had done in his New York triumphs.16 The two men raced stride for stride for nearly the entire distance, with Salazar edging ahead in the final mile (and Beardsley's late comeback attempt reportedly foiled by the motorcycles and media bus clogging up the finishing straight). Salazar, once again, had to be carted to the medical tent immediately after the finish, where six liters of fluid were pumped intravenously into his twitching body.
Salazar's famous collapses and abstemious hydration habits are still widely cited as evidence of the link between dehydration and heatstroke.
Download


Copyright Disclaimer:
This site does not store any files on its server. We only index and link to content provided by other sites. Please contact the content providers to delete copyright contents if any and email us, we'll remove relevant links or contents immediately.