Urban Outlaw by Magnus Walker
Author:Magnus Walker , Date: November 15, 2017 ,Views: 2687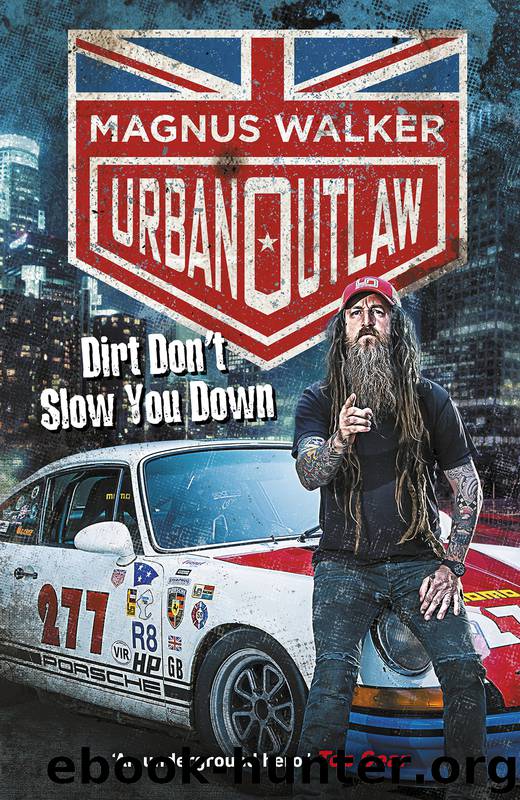 Author:Magnus Walker
Language: eng
Format: epub
ISBN: 9781473542006
Publisher: Transworld



Chapter 9
277
The one car that everyone always asks me about is 277. Truth be told, that's kinda funny because it's a car that has so few of my signature touches. Yet it seems to have captured people's imaginations and is always first on the list when magazines and websites want to photograph my collection. 277 is the second 911 I ever bought, and it is a one-off car, very much the sum of its parts. If you are after a matching-numbers, factory-stock car, 277 is not your 911. It's a '71 911T, which I first saw at the Pomona Swap Meet in 1999, the greatest place ever for this sort of story. There are so many cars, the air is full of the smell of oil and petrol, the occasional squeal of tyres. People are chatting passionately about their cars, and there's a real buzz and energy.
The guy who owned 277 was actually an aerospace engineer who worked at Lockheed Boeing. I paid seventy-five hundred dollars for the car, which had already been modified, with a 2-7 motor in it, but it was still narrow bodied, it hadn't been flared. The car was originally gold, although it had been painted green and then various shades of white. It was a great running, driving car, so I paid the money and brought it home.
Straight away, I wanted to build my interpretation of a '73 RS replica. I have never lusted after an actual '73 RS. They made 1,580 of those and when I bought 277 for seventy-five hundred bucks, a '73 RS was probably a fifty-grand car (at the time of writing, a great RS is now a million-dollar car). The point being, back then fifty grand may as well have been a million bucks to me, because under ten grand was where I was at.
I ended up buying real RS flares for seven hundred and fifty bucks, and they were butt welded on to the car within three months of me owning it. Then I got the '73 RS Carrera fibreglass ducktail, repainted the car white and put black Fuchs on it, so within six months it was a '71T that looked like a '73 RS.
I did my first track day at Willow Springs in that car. My obsession with racing meant that I very quickly made more and more modifications to the car, always searching for better performance. The modification side was not something I did to make the cars look good; it all began when I went to the track with a somewhat basic car and then you get a dose of the need for speed, so I started doing performance modifications which were generally suspension, brakes, wheels and stickier tyres. When I moved up to the next level in the Porsche Owners Club series of bigger tracks, a number of safety requirements came with that escalation. So I put a roll bar in it, bought some cheap Momo bucket seats for two hundred bucks, fitted a five-point harness, fire extinguisher – you know, safety first.
Download


Copyright Disclaimer:
This site does not store any files on its server. We only index and link to content provided by other sites. Please contact the content providers to delete copyright contents if any and email us, we'll remove relevant links or contents immediately.