The One Percenter Encyclopedia by Bill Hayes
Author:Bill Hayes , Date: January 28, 2018 ,Views: 1267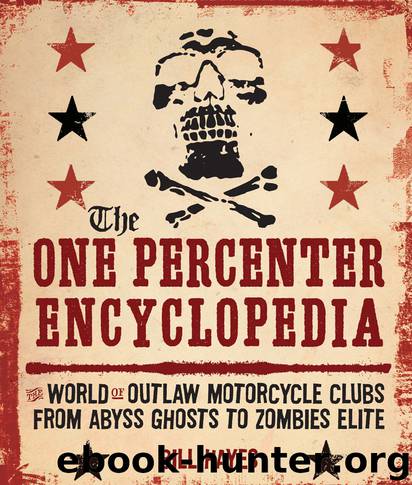 Author:Bill Hayes
Language: eng
Format: epub
Publisher: MBI
Published: 2011-01-28T05:00:00+00:00



KNIGHTS - A three-piece-patch club in Malta. They have a motto that kind of says it all: "Forever strong, forever bikers, forever brothers. . . . Our will shall find the way!" And they are HAMC supporters.
But there is another Knights MC, an East Coast club with a history as told by one of their more loquacious members, "Weebles," KMC:
First off, we are not affiliated with any of the other Knights MCs. We started out as Jersey Knights in 1975—this was Generation I. This first phase of the club actually wanted to go AMA, but when they went to all the racing events, they took all the trophies—the AMA clubs there were pissed! So when the Jersey Knights applied for an AMA charter, the AMA turned them down. "Fuck you, AMA!" they decided.
Maryland soon joined the fold, and then Delaware. Generation I went until 1985 when Generation II came into play. With Generation II came big changes. We went with a three-piece patch, adding a sword to our center patch. And instead of being Jersey, Maryland, and Delaware Knights we joined under one banner and became Knights MC with state rockers on the bottom. In 1987, Pennsylvania was added to the fold. Generation II went on through 2010.
Generation III went into effect in 2011. At that time, some of us dropped the state rockers and went with "EST. 1975" for our bottom rocker. Since we were scattered all over the U.S., we felt this was the right thing to do. We also decided to put our colors on leather. A lot of our older members decided they didn't want to change their old colors, so they kept them and wear a retired patch instead.
Oh, and one more thing: In all the years we have been a club, we have never been infiltrated!
Download


Copyright Disclaimer:
This site does not store any files on its server. We only index and link to content provided by other sites. Please contact the content providers to delete copyright contents if any and email us, we'll remove relevant links or contents immediately.