Henry Knox: Visionary General of the American Revolution by Mark Puls
Author:Mark Puls [Puls, Mark] , Date: August 6, 2020 ,Views: 321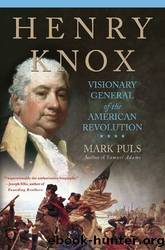 Author:Mark Puls [Puls, Mark]
Language: eng
Format: epub
Tags: Non-Fiction, Biography, History
ISBN: 9781403984272
Google: Xf5Kmmp-yycC
Goodreads: 2121440
Publisher: Palgrave Macmillan
Published: 2008-02-05T00:00:00+00:00



American prospects for the war did not brighten with the spring of 1780. On May 12 in Charleston, South Carolina, British general Henry Clinton forced the surrender of General Lincoln, who turned over the American garrison and the city. It was the greatest defeat of the war, costing the United States 5,000 men, along with 400 guns and 6,000 muskets. The British were now un-opposed in South Carolina. Knox sent a consoling letter to his friend Lincoln just as he had sent condolences to Nathanael Greene after his demoralizing defeat at Fort Washington in November 1776. Knox expressed his steadfast faith in Lincoln at a time when his military reputation lay in ruins: "The great defense made by you and your garrison in field fortifications will confer on you and them the esteem and admiration of every sensible military man. I hope and believe that Congress will most unequivocally bestow that applause which you have so richly merited. No event, except the capture of Sir H. Clinton and his army, would give me more pleasure than to see you."6 Lincoln seemed deeply moved by Knox's abiding confidence. At a later period, he wrote to Henry in terms of overflowing affection: "The first moment I had the happiness of being acquainted with you I conceived a high degree of friendship, which uniformly has increased as I became more intimate, until the present period. I consider the confidential manner in which we have indulged as one of the happy circumstances of my life, and in all events of grief or joy there is no man from whose friendship I should more readily expect the most cordial balsam, or whose bosom would more cheerfully expand in a participation of my happiness."7
On Tuesday, May 23, 1780, Knox began to voice doubts over the prospect of success against the British in New York City. To lay siege to the town, he believed the Continental army needed 28,000 men to overtake the 14,000 redcoats nestled behind defensive fortifications. He provided Washington with a detailed if somewhat cautious plan for a coordinated Franco-American assault that expressed his concerns. Because the value of the American dollar had depreciated so much, many merchants and farmers were unwilling to sell goods to the army. Knox explained that any summer military campaign would be doomed if the army's quartermaster and commissary departments were not put on solid financial footing by Congress: "Those are the main springs of an army, and unless they are in perfect order, every movement depending on them must be wrong and will in the end, produce destruction."8
Many of the troops that Knox saw at Morristown were gaunt and emaciated from months of malnourishment. Most went several days without meat, and officers such as Knox subsisted on bread and water to set an example. Despite the strict diet, however, Henry remained a heavy man. But the troops continued to die from disease or illness at an alarming rate, and Congress was unable to raise money for the army to relieve the suffering.
Download


Copyright Disclaimer:
This site does not store any files on its server. We only index and link to content provided by other sites. Please contact the content providers to delete copyright contents if any and email us, we'll remove relevant links or contents immediately.