Guy Burgess: The Spy Who Knew Everyone by Purvis Stewart & Hulbert Jeff
Author:Purvis, Stewart & Hulbert, Jeff [Purvis, Stewart] , Date: December 18, 2018 ,Views: 354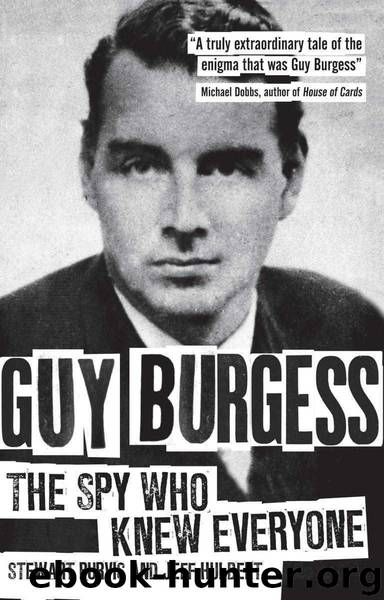 Author:Purvis, Stewart & Hulbert, Jeff [Purvis, Stewart]
Language: eng
Format: azw3
ISBN: 9781785900136
Publisher: Biteback Publishing
Published: 2016-01-27T16:00:00+00:00



§ Throughout this book Carey-Foster's name is hyphenated. In some of the quotations his name is not hyphenated in the original documents.
CHAPTER 7
'GOOD REASON TO HOPE HE WOULD MAKE A USEFUL CAREER'
CRUCIAL DECISIONS AT THE FOREIGN OFFICE AND MI5, 1950–51
In a corner of graveyard in the Moroccan city of Tangier is a simple gravestone on which can be found: 'Dean. Missed by all and sundry. Died February 1963'.
'Dean' ran a bar which seems to have been rather like a seedier version of the 'gin joint' run by Humphrey Bogart in the classic film Casablanca. His customers were what one writer called 'a disreputable army of refugees and deserters, spies, gunrunners, and thieves'. His true identity was probably Don Kimfull, an Anglo-Egyptian who fled London when he was mixed up in the death of an actress from a cocaine overdose in 1919.1
Dean (who was also a homosexual) became part of the Guy Burgess story when the two men fell out in December 1949. The incident was chronicled in perhaps one of the most extraordinary messages sent by one MI6 officer to another. 'Burgess', it was reported back to London, 'should not have pinched Harry Dean's Arab bum boy. He has created one hell of a scandal.'2
Nevertheless, it turned out to be just one episode in a holiday that included getting drunk on a number of occasions, offending and embarrassing a score of people, avoiding paying some of his bills, committing several security-related indiscretions – all of which culminated in an appearance in front of Foreign Office senior managers when he got back to London. Not bad for what was intended to be a holiday with his mother to recharge his batteries.
Burgess had booked a trip for the two of them to go to the Rock Hotel in Gibraltar and then onwards to Tangier, where they had holidayed some twenty-five years previously. When the pair arrived, however, he started as he meant to continue, and that meant drinking. There is little record of what his mother did, or thought, because according to all accounts she remained firmly hidden in the background. But there is evidence about what Burgess got up to, from an MI6 and an MI5 man respectively. The MI6 officer, Desmond Bristow, disliked Burgess – and it showed. His account of Burgess's activity was littered with homophobic phrases that in the 1940s and 1950s would not have seemed too out of place. The other account is drawn from the diaries of Burgess's sometime friend and acquaintance Guy Liddell, the deputy head of MI5. Despite the difference in tone, the two men shared common sources in the form of MI6 officers on the ground reporting back to London.
The trouble seems to have started when Burgess arrived at Gibraltar's Rock Hotel and discovered that he was unable to change his travellers' cheques.3 He had with him letters of introduction from Robin Maugham and David Footman, although Footman's was never shown.4 A later note referred to the introduction from 'one Robin Maugham, who
Download


Copyright Disclaimer:
This site does not store any files on its server. We only index and link to content provided by other sites. Please contact the content providers to delete copyright contents if any and email us, we'll remove relevant links or contents immediately.