Examples & Explanations: Administrative Law by William F. Funk & Richard H. Seamon
Author:William F. Funk & Richard H. Seamon [Funk, William F.] , Date: August 14, 2016 ,Views: 1178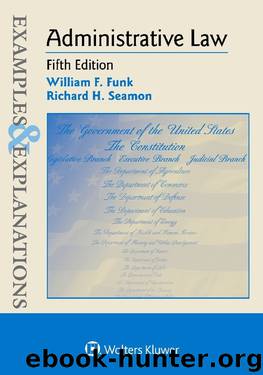 Author:William F. Funk & Richard H. Seamon [Funk, William F.]
Language: eng
Format: epub
Publisher: Wolters Kluwer
Published: 2015-10-02T04:00:00+00:00



at least both (i) a substantially increased risk of harm and (ii) a substantial probability of harm with that increase taken into account.…If the agency action causes an individual or individual members of an organization to face an increase in the risk of harm that is "substantial," and the ultimate risk of harm also is "substantial," then the individual or organization has demonstrated an injury in fact.…In applying the "substantial" standard, we are mindful, of course, that the constitutional requirement of imminence as articulated by the Supreme Court…necessarily compels a very strict understanding of what increases in risk and overall risk levels can count as "substantial."
In this case Public Citizen was attempting to challenge an automobile safety rule regarding tire pressure monitoring systems, and it provided information regarding the increased risk to automobile drivers, including members of Public Citizen, caused by NHTSA's failure to adopt a stricter rule. The court did not believe this information was sufficient to meet its test of substantial probability of injury, but it allowed the plaintiffs an opportunity to supplement the record. Although they provided expert affidavits to the effect that the increased risk of injury from NHTSA's rule compared to Public Citizen's preferred rule was higher than the increased risk of cancer in NRDC v. EPA, the court held that the supplemental submission was inadequate to establish the requisite "substantial probability of injury." One of the problems was that Public Citizen had computed the increased risk of injury between NHTSA's rule and Public Citizen's preferred rule, but in its comments in the rulemaking Public Citizen had suggested that it would accept something less than its preferred rule, albeit more strict than what NHTSA had adopted. As a result, the court said, there was no evidence of the increased risk between what NHTSA had adopted and what Public Citizen would have accepted, so there was no evidence of injury. As Public Citizen would tell you, trying to provide probabilistic evidence, especially in the specificity seemingly required by the D.C. Circuit, is very expensive and difficult. If plaintiffs are required to quantify the specific increased risk suffered as a result of what they believe are regulations that do not adequately protect persons' health or safety, they may be foreclosed from challenging such regulations. But, then, maybe that is the point. As of this writing, no other circuit has adopted the standard used by the D.C. Circuit, although some district courts outside of the D.C. Circuit have followed Public Citizen's statement of the test.
The Supreme Court first addressed risk of harm after Public Citizen. In three recent cases it has given some apparent mixed messages. In Summers v. Earth Island Institute, 555 U.S. 488 (2009), environmental groups wanted to challenge a Forest Service regulation that allowed for certain salvage timber sales to be made without prior notice and comment, despite a statute requiring notice and comment before all timber sales. However, because they did not know to which timber sales the regulation might be applied, they could not produce a member who walked in the woods affected by the sales.
Download


Copyright Disclaimer:
This site does not store any files on its server. We only index and link to content provided by other sites. Please contact the content providers to delete copyright contents if any and email us, we'll remove relevant links or contents immediately.